Company Name: Zukul
Costs: From $19.60/month
Rating: 25/100
Do I Recommend Zukul?
Theoretically, you could make money with Zukul, especially if you already knew the ins and outs of internet marketing. But, the company still isn't one that I'd recommend. Instead, it just leaves you promoting hyped up products and services, with little evidence that they actually work. If you do want to sell products in this field, straight affiliate marketing is a much better choice, especially as this lets you focus on high-quality options from the beginning.
What Products Does Zukul Sell?
Zukul has been around for a while now and the site continues to create a significant amount of buzz and debate. Basically, Zukul operates in the internet marketing niche, which means that it's providing people with information and tools about how they can make money online.
For example, one of the products they offer is Social Sniper Pro, which is designed to send traffic to your site through social media. There is also Facebook Ninja Pro, which focuses on marketing through Facebook, along with an Autoresponder that can be used for email marketing. There are various other tools too, most of which are connected to blogging or marketing in some way.

If you want to make money through a website, having the right tools is essential. After all, you want to create something that looks good visually and you need to drive traffic to that website. Theoretically, the products from Zukul could help you do just that. For that matter, some (but not all) of the types of products that Zukul provides are relevant, such as the autoresponder.
What's more, the site does also offer some training, which is promoted as a step-by-step guide through making money from home. Having some education or training is important, as you need to know what you're doing to be successful at making money online.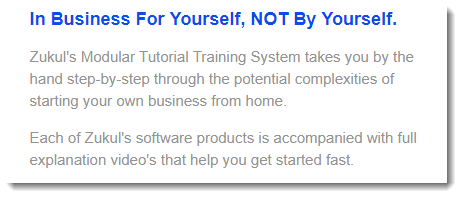 It all sounds amazing but there are some issues with what's on offer too.
My biggest issue is the lack of information. You don't get to see much about how these individual products work or what they offer. There are various videos and some marketing but these areas emphasize hype, rather than useful information.

In contrast, if you went to the site for a high-quality product, such as a landing page creator (like Thrive or Leadpages, for example), you find detailed information about what you get and how it works. In many cases, you'll also have access to a free trial to test it out for yourself.
That type of information is important because it lets people compare products to one another – and work out what is the best. In contrast, companies that don't provide useful information tend to look suspicious. They hide behind a mystery wall of "magic" rather that explain in detail what you're going to get. After all, if the services were good, why not provide more details? Anyone running a business will be happy to spend $100 per month for a service like this.
For that matter, the information for their training offers little insight about how you are meant to be making money online. Instead, visitors are simply told that they are provided with video training. You're also forced to go through the training in order, regardless of which topics you're interested in and what you already know.

In a similar way, anything marketed as 'set and forget' is a cause for concern. Making money by autopilot is mostly a myth (despite what products like Commission Autopilot claim). Building a business takes time and effort, especially when you're getting started.

One final thing to note is that some of the product concepts are good – but there are better versions out there. For example, Zukul offers a landing page creator, a banner creator and an autoresponder. All three services can be useful and might even be essential for some types of sites.
Yet, if you're going to rely on any of these approaches, it would be better to look at a specialized tool. For example, there are services like Get Response and MailChimp that entirely focus on email marketing, which includes an autoresponder function. Thrive focuses on building landing pages. Canva can create awesome banners.
Because these companies specialize in their craft, they can offer a much more comprehensive service and are higher quality overall.
With all this in mind, the products from Zukul simply seem to be run-of-the-mill versions of countless other internet marketing products out there.
There is also one other problem – you don't buy the products directly. Instead, members sign up for packages, which come at a monthly cost. So, you're paying anywhere from $17.98 to $250 per month, along with an extra transaction fee. The total price after that fee is $19.60, $54.50 or $272.50, depending on the package.

$200+ is an incredibly high cost, especially when the company offers so little information about what's actually inside any of the products. For that matter, the highest tier even has some products that are 'under construction' – despite the fact that Zukul has been around since 2014.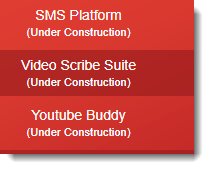 After taking a look at what Zukul offers, it reminds me a lot of Ingreso Cybernetico. This is a company running in Latin America. It's basically an MLM that offers poorly designed marketing packages as their products.
Although they do have a product to sell, the main reason to join is to recruit other members into the system.
Is Zukul A Good Business Opportunity?
The products from Zukul are unimpressive in my opinion. I have a hard believing that any of them would live up to the claims the company makes. But, the products are only part of the story. The other aspect is how you make money.
Basically, Zukul provides an 'opportunity', where you earn money promoting the products. The company presents this as being an amazing and life changing approach – although it is fairly similar to countless other opportunities out there.

The company defines its approach as a 3 Level Deep Affiliate Plan, where you are earning commissions monthly. The idea is similar to an MLM model, although many MLMs operate deeper and more complex plans.

Now, the company doesn't offer many details but the concept seems to be that the first level of commissions is from the purchases of people you recruit directly. The second level then comes from anyone they recruit, and the third level from people recruited by the second level.
As with a regular MLM, building a larger team would give you the chance to earn more money. But unusually, there don't seem to be any additional bonuses or ranks. This makes the plan easier to follow but does mean the potential for income is lower overall. Actually, I like this concept. It offers an opportunity for you to recruit others with limits. Though I'm not impressed with the products they offer, I do like this multi-tier affiliate program idea, and I've seen it in many other companies.
The end result is that Zukyl is somewhere between a full-fledged MLM (like Saladmaster) and a basic affiliate marketing program. But, what does this mean in practice?
Zukul Scam Claims
For one thing, Zukul has been the subject of considerable negative press since it was founded in 2014, as has one of the founders, Jeremy Rush. This includes reports that Zukul is a scam, along with complaints from members that they're not paid everything that they are owed.

In fact, Jeremy Rush has been involved in a range of other products as well, including Penny Matrix, DS Domination and MMO Cashout. I've looked at the first two of those in the past was not happy with what I saw. Certainly, the products focused on a considerable amount of hype, with little to back that up – and I wouldn't recommend either of them.
When you couple this with questionable marketing and monthly fees, the company just looks more and more concerning.
Actually Being Successful With Zukul?
In theory, you can make money selling almost anything online. There are always some people willing to buy, regardless of what you're selling. And, selling a digital-only product also offers many advantages. I love selling digital products!
Nevertheless, Zukul has you trying to sell a monthly membership, where the higher tiers are particularly expensive without a unique selling proposition.
As I mentioned earlier, there is no shortage of internet marketing products and services out there. That includes many that offer the same general approaches as Zukul's products. With that in mind, Zukul is going to be a tough sell, even if the products themselves are better than they sound.
How To Turn Online Marketing Into A Legitimate Business
If you do want to promote Zukul, I would advise against using their "viral blogging system". Stick with WordPress, and own your own content and blog. Promote Zukul as part of a variety of products and services in the internet marketing niche. Contrast and compare what they offer with competing companies, and your readers will be able to decide which program or product is best for theim.
One potential direction would be the field of SEO software. SEO stands for search engine optimization and it's a critical process if you want to rank a website and make it successful.
Another direction to consider would be focusing on best hosting. Promoting hosting is often effective because everyone needs good hosting if they want to make money online. For that matter, hosting is important for physical businesses as well. Plus, there are so many different options, so the field gets confusing quickly.
As a result, many people are looking for information on hosting – so why not make money from it? For that matter, promoting hosting is often lucrative, as some affiliate programs will pay more than $100 for a sale, depending on what your customers buy.
Final Review
I was not impressed with what I found during my research on Zukul. However, if you enjoy their products, the best approach to promoting them would be to start your own website and promote their services as part of a range of things on your website. That way your diverse recommendations will keep your site afloat in case things go sideways with Zukul.
Whatever type of product you decide to promote, it's important to own your own website to grow your business.
Parties only work if you have a network of friends with money in their pockets. Network marketing only works if your friends are interested in joining business opportunities.
With a website you can reach the entire world, and only promote great products to people interested in what you have to say. Plus, you open up doors to multiple streams of revenue like affiliate sales, ad click revenue, paid advertising, and even selling your own digital products.

What's up ladies and dudes! Great to finally meet you, and I hope you enjoyed this post. My name is Nathaniell and I'm the owner of One More Cup of Coffee. I started my first online business in 2010 promoting computer software and now I help newbies start their own businesses. Sign up for
my #1 recommended training course
and learn how to start your business for FREE!

Latest posts by Nathaniell (see all)