Company Name: XP Mining
Costs: $20+ (initial investment)
Rating: 8/100
Do I Recommend XP Mining?
XP Mining cashes in on the cryptocurrency craze but it's extremely unlikely that anyone will make money with XP Mining, aside from the owners of the company. Instead, the cryptocurrency approach is just a mask for a recruitment scheme and the company offers no proof that it is doing anything that it claims to.
With that in mind, you'd be much better with a different approach to earning money. One alternative is affiliate marketing, which lets you promote an actual product that people are going to be interested in – rather than trying to get them to invest in a highly shady scheme.
What Products Does XP Mining Sell?
XP Mining sounds like a process for an online game of some form, rather than a way to make money. But, XP Mining is a cryptocurrency company, giving you the potential to earn money by investing in digital currency.
The marketing video makes this idea sound amazing, suggesting that the market value for cryptocurrencies is increasing exponentially. And, in a way, this is true but only for some of the currencies. So, there are some extremely successful cryptocurrencies out there, ones that are earning people considerable incomes.
Yet, there are also many more that are going nowhere. As a result, the field is not nearly as amazing as XP Mining implies and success is far from guaranteed. It's also difficult, if not impossible, to accurately predict which currencies are going to be successful. Some may increase 100% in one day, then fall 200% over the next  year. Or they may launch with hype, and quickly fade out of existence.
Because the focus is on cryptocurrency, there are no actual physical products or services on offer. Instead, you're buying various packs that offer the chance to make income.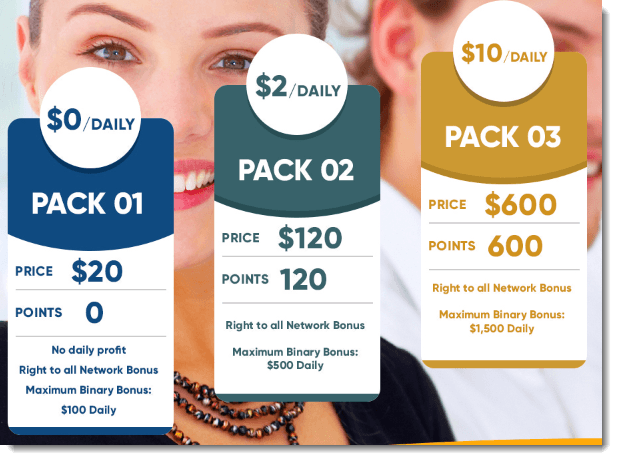 Interestingly, the focus of the packs is on how much money you can earn directly and through bonuses, rather than on what you're actually getting. In fact, it isn't even clear what currency you're paying for or whether you are even getting any currency. Instead, the main information is the ROI, with the highest pack costing $10,800 and supposedly offering $180 per day in return.
The design is odd – as there is no indication about how you're even meant to be earning money. The company consistently talks about investments, which implies that you are buying into their currency. Likewise, the marketing strongly suggests that XP Mining has its own cryptocurrency that it is selling.
But, that's not actually the case, as the image below shows.
So, despite the marketing, you're not actually buying any digital currency at all. Instead, the company itself is trying to earn money through cryptocurrency mining, primarily relying on Bitcoin and Ethereum.
With that in mind, you're not getting currency in those packs from earlier. Instead, you seem to be literally just paying for the chance to earn money. That's not an encouraging idea, especially as the company is far from upfront about that information.
Plus, they certainly don't provide any details about how they are mining or how your profit is determined. So, it's not even clear whether that 'per day' income is guaranteed or just a projection.
At the same time, the model creates many questions. For one thing, how is it meant to be sustainable? After all, it's not clear what customers are even buying or how that results in increased revenue for the company. And, if the customers aren't making the company more effective, why exactly is the XP Mining looking for investment?
There aren't many legitimate answers – especially as the company shouldn't need this type of income stream to be able to actively mine cryptocurrency. There is also no proof that investors are getting any payments at the other end.
In fact, there isn't even any evidence that the company is actually doing any mining at all. Instead, they may just be running an outright recruitment scam, where they are convincing people to invest.
Is XP Mining A Good Business Opportunity?
As you can see, XP Mining is fairly misleading and doesn't even offer any currency of its own. At the same time, the main emphasis isn't really on making money by investing anyway. Instead, the cryptocurrency concept is mostly a front for a recruitment scheme.
From the recruitment perspective, the company follows an MLM design. Under this model, you earn money from direct sales, as well as from recruitment. For direct sales, your income ranges from $6 to $540, depending on what pack you manage to sell.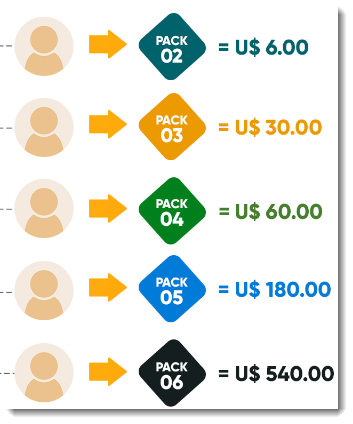 This is actually an extremely low compensation rate. For example, the first pack costs $120 and you earn $6 commission. That's a 5% compensation rate, which remains consistent all the way up.
In contrast, most product-based MLMs (like Tastefully Simple) typically offer anywhere from 20% to 33% commission on sales, with some having higher commission rates still. Many affiliate marketing programs also have higher commissions and those have less complex requirements overall. Plus, with both of those options, you get to promote actual products.
Of course, direct sales is only one income aspect. The rest is tied into building a team. XP Mining uses a common binary model for team building, where you develop two different teams. You then earn 15% commission on the sales that the lowest performing team generates.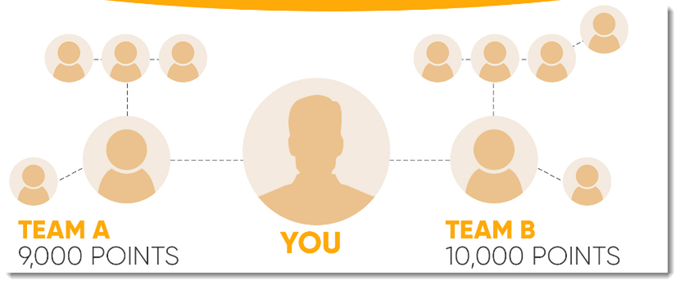 As a result, the best way to make money is to have two teams that both perform well. The binary structure may offer bonuses but it also increases the work needed to be successful. In particular, the design means that you need to balance the teams and must have some high performers on each side.
With most MLMs, there is more income potential in recruiting than in sales and that's true here too. In fact, this is one of the few examples where you actually seem to earn more from your team's sales than from your own. This creates a very strong emphasis on recruitment and team building, which isn't entirely a good thing.
In particular, this focus means that you have to consistently grow your team and ensure that people keep spending money. If your team members were actually earning income by being members, this might be achievable. But honestly, that seems unlikely. Simply put, there is little to indicate that the company will pay out consistently, especially as their marketing is so vague.
Furthermore, recruitment for XP Mining would be difficult. You'd basically be trying to convince people to invest money in a company that looks suspicious. You might be able to do so if you can prove income – but the design means that you need to recruit to actually make decent money. So, you could end up in a catch-22 situation very easily.
There are also other aspects to the compensation plan. In particular, there are various bonuses that increase your income potential, such as the XP Leadership bonus.

Like other MLMs, there is also a rank system in place. Here, the goal is to progress through ranks in the company, with each rank providing more income and bonuses, while having higher requirements.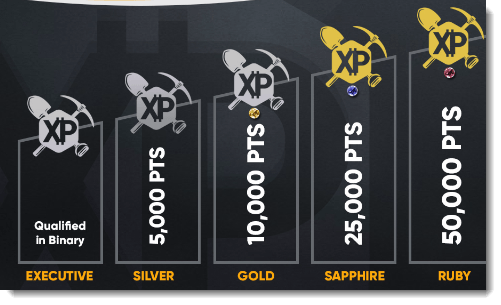 XP Mining is fairly simple in this sense, as the qualifications to increase ranks are just related to the number of points, with the highest being 5 million points. With this company, points are directly equivalent to dollar amounts. So, you need $5,000 worth of sales in your team to reach the Silver rank, $10,000 to reach Gold and so on.
Progressing through these ranks would get difficult fast, unless you were amazing at convincing people to join. In fact, at 5 million points, you would need $5 million in sales to reach that final rank.
Risk And Reward
Now, as a general rule, cryptocurrency is a risky field. Some companies do end up being successful and turning a profit for their investors. But, many more fail entirely, leaving people considerably out of pocket. As a result, it's always important to carefully research any cryptocurrency company before you seriously consider making an investment.
The same is also true for MLMs. An MLM may give you more control over your income but you are still dependent on the company that you're working for. If that company is poor quality or has bad products, your potential for income is low.
In the case of XP Mining, there are some concerning patterns that suggest the company isn't all it claims to be. For one thing, XP Mining claims to be based in Manchester and online registration information confirms that.

Yet, the default version of the site isn't even in English and selecting a different language appears to just run the whole thing through Google translate.

It seems likely that the UK address is mostly for filing and the company probably isn't located in the UK at all. The site also jumps back and forth with language, as the main video is in English (with subtitles) and the PDF compensation plan is in English as well.
The end result is that the site feels incredibly unprofessional. In fact, the main presentation video even looks and feels like it comes from Fiverr – with a very unconvincing actor.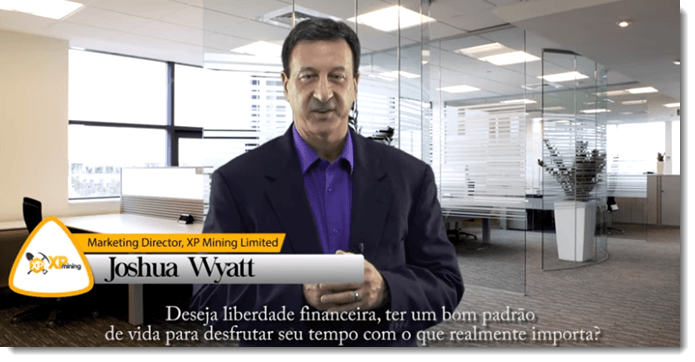 That video also claims that Joshua Wyatt is the marketing director. But, I didn't see that name anywhere else. Plus, the company and the domain are both registered to Reed Grant. Again, this isn't encouraging, especially not when the company wants you to invest money.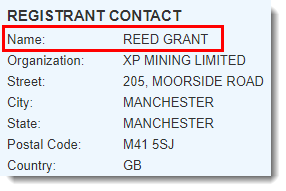 This type of shady practice is extremely concerning, especially for a company that doesn't offer a physical product for you to buy. Instead, you have to put trust in the company and assume that their claims are legitimate.
That's a big ask when it isn't even clear how the company is making money and whether you would get paid. If you really do want to make money simply from investment, then there are many other companies to choose from. This includes ones that are more up-front and honest about what you do (and don't!) get for your investment.
In practice, there's a high chance that XP Mining simply won't stick around. Their claims for how much you can make are unsustainable and the company is likely to run out of money fast. What's more, the underlying business model just doesn't make sense and it seems like the company is doing nothing more than fleecing people for money.
Final Review
XP Mining is a company to avoid at all costs. There is no evidence that they will actually pay members and there are far too many red flags about the company.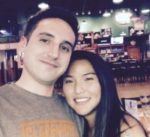 Nathaniell
What's up ladies and dudes! Great to finally meet you, and I hope you enjoyed this post. My name is Nathaniell and I'm the owner of One More Cup of Coffee. I started my first online business in 2010 promoting computer software and now I help newbies start their own businesses. Sign up for my #1 recommended training course and learn how to start your business for FREE!