It is very possible to earn money with Google Adsense, but it might not be the best way to earn per hour of work you spend on your website. Some people love it. I don't. [UPDATE: Read the the bottom to see new information regarding my use of Adsense]
It is one of the most widely known and universally used ways of earning money online. It's easy to get started, simple to understand, and available in most countries. So what's there not to like about it?
What I Like About Adsense
1. Easy To Use
The most appealing thing about using these types of ads on your website is that they are just plain easy to use. You might get a bit scared of the code they show you in the beginning, but if you can figure out how to copy/paste a chunk of code onto your websites just one time, you can start making money from your traffic.
Some people add more than one advertisement block, and some like to experiment with positions and what makes them the most money. Some people run several websites on different topics, and do the things things to try to earn more. But that's all extra. The very basics are dead simple.
2. Easy To Monetize
You don't even have to consider anything about the ads being served to your visitors. There are a few simple questions you answer about what type of content you have on your site, but in the end, Google is going to decide which ads to show people on your site.
More Traffic = More Money!
This means you don't have to mess with testing and analyzing data to figure out what people want and how to get them to buy it.
Your ONLY job is to get traffic to your website. Normally, this means writing content. Essentially, you just make your website about whatever you want, write whatever you want, and at the end of the week Google pays you. Simple, right?
3. Good Track Record of Payments
You also don't have to worry about whether or not you're going to get paid. Though there are some grumbles and rants about getting kicked from the program and not getting paid, those are the guys (including me) that are permanently banned. If you follow the rules, you get paid on time.
What I Don't Like About Google Adsense
1. Easy To Get Banned
I was banned for a mysterious reason that they never revealed to me. 4 years later, I'm still banned. Even murderers get a second chance sometimes, but in Google's world, you're banned for life. They do not need to explain to you why, and good luck trying to get anyone to investigate the reason for you because once you are banned, you are forever a leper and never to be spoken to again.
So many people have gripes about it, and most have no idea why they were banned. They have now even expanded the banning umbrella to include potential infractions. Yes, they can ban you for simply suspecting that you will break the rules in the future. Not only that, but there are no rules saying that they must tell you why they did this, and there's no chance of reinstating your account. This is NOT something I would rely on for income — always have a backup plan.
2. Doing Your Competitors Work
All those advertisements on your site? They might your competitors. Depending on what type of website you run, it might not be a big deal. If you aren't running any of your own promotions, then it doesn't matter that much who advertises on your website as long as you make money.
But if you are doing sponsored posts on your site where you get paid commissions, or doing your own affiliate advertising, this can cut into your earnings. Competing websites that aren't ranking well can simply pay a few pennies and place their ads on your highly ranking site. There are settings in Adwords that let people choose to place their ads on websites rather than in Google search results.
You might have spend 2 years building this website and gaining trust in the search engines. Are you sure you want to let just anyone put their ads there and make money from YOUR hard work?
3. Tiny Payments
The worst part is the tiny amount of money you make. Google pays you 68% of what an advertiser pays per click. The cost of a click is determined in a bidding process through a program called Adwords. Price ranges from $.05 to $5+, so how much you make per click really depends.
However, most advertisers are striving for cheap clicks, so they are actively trying to make you earn less money! I rarely pay more than 50 cents per click for search engine results, and paying for clicks through the ad network (on your site) usually come a bit cheaper.
I know that's a lot of advertising lingo for you if you are just getting started, but the bottom line is this: You are getting paid pennies each time someone clicks away from your website and goes onto someone else's.
It can take hundreds of thousands of visitors per day just to make a decent income this way! Luckily, there's a better way to earn money online.
Who should use Adsense?
Google Adsense can be appropriate for some people. If you have personal blog that you don't want to "sell" stuff, it could be an easy way to make a few bucks. If you have a website topic that you feel there are no products or services available that you could sell directly, this type of advertising could also appropriate for your site. The celebrity gossip blog from above works great for an example.
HUGE UPDATE: I recently purchased a product called Niche Tycoon which explains how Jon Dykstra makes $40,000 per month using Google Adsense (and a few other display advertisers). I'm currently building a website according to his training, and will see how the results goes. It's exciting because it's the first time I've really seen the potential of Google Adsense.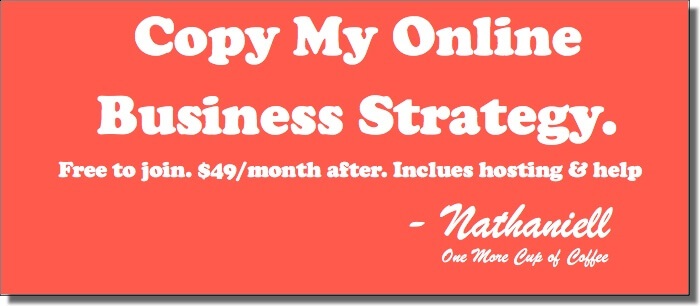 That being said, his websites get like 100,000 views per day, which will be challenging for a lot of newbies. If you have no experience building websites, it will also be a little hard to follow the training since it doesn't come with videos or support. It also requires having a budget for paid ads, and learning how to do paid advertising on Facebook.
For complete newbies I still highly recommend getting started with affiliate marketing with training because you can learn the basics of how to earn money online, and figure out how to earn income by doing affiliate promotions. I have found that I can earn pretty good income from sites with just a few hundred visits per day…no need for huge numbers like you need with Adsense lol!
The Affiliate Alternative: Big Earnings With Less Traffic
To make GOOD money off of LESS traffic, affiliate marketing is the way to go. I have one website with only 100 visits a day and it makes about $2000 per month. Crazy right?
Instead of placing some general ads you have no control over we get highly targeted products for our audience. We place ads in strategic locations within the body of content, and this results in many more sales.
No only are we making more sales, but we're making more money too! Instead of pennies per click, we can make several dollars per sale, sometimes a hundred dollars or more.
If you have a website already, fantastic. You are ready to start making money through affiliate marketing. If you don't have a website yet, you need one, and then you need to get traffic to it.
Wherever you are in your journey to online income, you are going to need some training to know which step to do next. I actually DO make good money doing affiliate stuff, and I learned everything I know from this affiliate training center. They are very newbie friendly, and if you sign up for a free account, I will be around to personally assist you through the process of setting up and monetizing your website.

What's up ladies and dudes! Great to finally meet you, and I hope you enjoyed this post. My name is Nathaniell and I'm the owner of One More Cup of Coffee. I started my first online business in 2010 promoting computer software and now I help newbies start their own businesses. Sign up for
my #1 recommended training course
and learn how to start your business for FREE!

Latest posts by Nathaniell (see all)