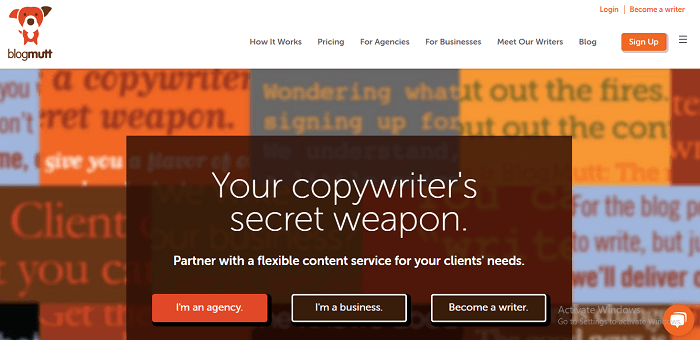 Introduction to Blogmutt.com
This site has a relatively modern design, pointing to Blogmutt's sophistication.
Yet the company name includes "mutt," a throwback to when the internet was a few years younger. So, it's a retroactively modern site at first glance.
But did I get paid for writing? Not yet, though there's promise.
The writing test to get into Blogmutt was a chance to select a content request from an actual client. But, there are no guarantees of getting paid for the work. Though, I will retain the rights to the piece and can sell it to another client on the site.
Update: Blogmutt accepted me as a freelance writer, so there will be more information about how the site works in the furure.
Getting Started with Blogmutt
There a few links for new writers on Blogmutt. There is a "Become a writer" link at the top right of every page and a friendly IM shows up offering assistance.
Unlike a lot of freelance writing sites, you definitely feel more welcome.
The average sign-up requirements — such as name, address, internet contact – after hitting the initial link. This was followed by a pretty easy test that I managed to pass the first time out, though I never saw the final score. Did I get a 100 percent? There's something inside me that just has to know.
This was followed by a lesson on Blogmutt's strict plagiarism guidelines, followed by a five-question, open-book style plagiarism test. The guideline/test combination is unlike other content mills' approach to plagiarism and is definitely a comprehensive. This is the gold standard when it comes to plagiarism, in my opinion.
Blogmutt requires all writers to provide a Social Security number to prove U.S. residency, as this is the type of writer they are looking to hire. But as long as your 10-digits are legit, you can write next to a wallaby in Austrlia. It's all good.
Social Security numbers may be too much for some to provide if you have privacy concern, but Blogmutt does say they don't share the information and provides legal language to that affect.
So, some information, two tests, and Social Security and tax information and we are ready to wait.
A day of two later an e-mail was sent saying that I passed the first five steps of the application process. I was just a few steps away…
Blogmutt Writing Test
The email invited me to write an article for site. This included looking through its robust project listings and reading over very detailed directions on how to find the article, write the article, and submit the article. I think there were about two pages of instructions, which answer all kinds of questions I had and didn't have.
Needless to say, Blogmutt is comprehensive.
Since this is just a test, I was limited to 300 +-word stories, which pay a little more than $10 upon acceptance by the client. I wrote a piece for a business consulting client with the aim of getting accepted to Blogmutt.
The project posting has a lot of information about what the client wants in the article, a bio of the company, style preferences, links to client web sites, and a list of recent comments. This last portion concerned me because it listed a long line of declines.
How Blogmutt works
Blogmutt is a subscription-based service where its business and agency clients request content of different sizes (300 words to 2,000 words). Clients basically input the subjects, the type of content (press release, blog?), detailed project directive, and then wait for freelancers to submit the written product.
Freelance wait for the piece to be accepted by the client before getting paid. This can take up to 30 days, according to 2018 rules. This can be disconcerting as the work is not guaranteed.
Freelance writers ware assigned a level, which designates the size content they may write. The level is included in a job listings page, which is separated by the clients. The page is very detailed and tells a lot about a client's blog-buying-activity, such as:
Credits available
Words limit
Queued Posts (post waiting to published by client)
Velocity (Number of posts purchased by a customer last month)
Industry of the client
Freelance writers retain the rights to a piece should it be declined by a client. They can sell it to another client. Also, the site tracks clients' objection rates so there are ways of choosing better clients.
The site also provides "default" pay rates based on the size of a blog:
300 words – $10.50
600 words – $21.00
1,000 words – $50
1,500 words – $90
2,000 words – $130
Blogmutt Reviews
There were plenty of these on sites like glassdoor.com and indeed.com, two sites that are pretty good barometers of a site's legitimacy, in my opinion.
The reviews said good things:
The site is very flexible. Writers can work when they like.
The staff is very receptive to writers who continually do work for the site.
Most say the pay is good.
The project queue was always full.
Pay improves over time.
And reviewer said bad things:
Although there are assignments, the client eventually will eventually decide to buy or not buy the content created.
Some of the subjects are esoteric and require lots of research.
Some said that if your screw up once, you're out. Reviewers with this experience were never given a reason for the ouster, nor were they given a second chance.
The pay is not good enough for most to give the site five stars.
It can take "months" for clients to accept and pay for work, some said. But Blogmutt is addressing this. See a snippet from the "Blogmutt in 2018" blog
Blogmutt: A brief history
The company was started seven years ago and is currently based out of Boulder, CO. According to its site, Bloggmutt was big on "quantity over quality" and functioned in a world where "content marketing was still in its infancy."
Blogmutt has since evolved, according to its site, to meet the ever-changing demands of content marketing. Today quality is the key to good content, not quantity. The site is very aware of this and looks to inject this concept in its products. It also recognizes businesses lack the time to produce the quality necessary to be effective, which is where they come in.
Today, Blogmutt has a crew of about 3,000 freelance writers that, according to the its marketing, offer expertise in many disciplines. The site is choosey on who they accept as writers, "less than 5% of applicants ultimately become BlogMutt writers."
But they ended up accepting my application, so either I am very good or, as my self-deprecating side says, "well, that's fake news."
Landing Jobs at Blogmutt
I sort of landed a job. I was approved to take a writing test after completing the first portion of the application. The writing test is basically going to the jobs list and selecting an actual job from its sizable queue.
So it felt like a job, though I'm not sure the 300-word post will be submitted to the client after I am accepted. If it is then accepted by the client, I must submit an invoice before Monday at 3 p.m. (MST) to get paid that week.
The payment is then sent to the Paypal account submitted in the sign-up phase.
I will provide more information about payment now that I've been accepted.
Pros and Cons of Blogmutt
If there's one word to describe Blogmutt, it's comprehensive. The site makes it very clear what success looks like. There are also several informative bits from clients detailing what they want and there's the in-depth plagiarism guidelines.
These are good details that provide what writers need to know to be effective. That helps a writer, in my opinion. With that in mind, here are some pros and cons:
Pros
Very comprehensive
Pay rates very good compared to other content mills
Site requires a high rate of writing capability
Lots of work
Blogmutt a venerable brand
Cons
Comprehensive nature could deter some
No guarantee of pay after project selected
Could be a long time before pay
Reviews say site can be unforgiving
Final Thoughts on Blogmutt
I'd compare Blogmutt to an Ivy League school, especially since Blogmutt's rate of acceptance of new freelance writers is so low. Although I'm well aware of the life-without-a-bachelor's focus of this site, it's a good comparison.
And, I'd say the site earned its stripes. Blogmutt has survived and thrived amid a collection of content mills, many of that have since folded.
I think part of their survival has do with its dedication to quality. This is proven in the guidelines, the most extensive I've seen so far. The amount of information may seem daunting, even annoying (some of the guidelines are pretty basic), but they provide clear expectations.
Getting accepted by Blogmutt, and thus showing that one can meet those expectations, shows that a freelance writer can produce quality work.
Also, I am convinced Blogmutt knows what top-rate content looks like.
With this in mind, I'd recommend Blogmutt to freelancers looking for paying work on the internet.
As a writer, you have an in-demand talent that can be used to earn you TONS of money online. You can earn money freelance writing, for sure, but it's still just trading dollars for hours. Personally, I recommend starting your own website! Information is the currency of the internet, so why not leverage your talents to build yourself a serious online income! Learn how to create your own blog-style website and make money through advertising.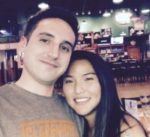 Nathaniell
What's up ladies and dudes! Great to finally meet you, and I hope you enjoyed this post. My name is Nathaniell and I'm the owner of One More Cup of Coffee. I started my first online business in 2010 promoting computer software and now I help newbies start their own businesses. Sign up for my #1 recommended training course and learn how to start your business for FREE!