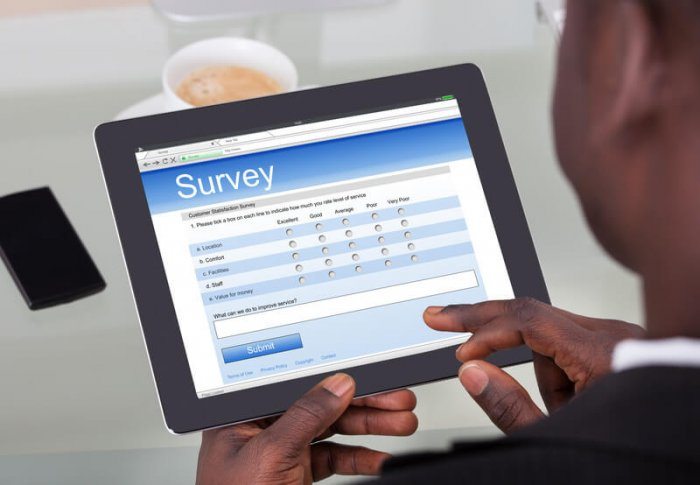 Polls and surveys are among the most effective insight-gathering techniques that any brand can use with its consumers. Beyond finding out information about your customers, polls can be a great way create engagement, even if people are marking nonsensical answers. There are lots of daily Twitter polls asking silly questions with even sillier answers, and guess what – people love them.
How can this help your website? In more ways that one.
For one, you can get immediate feedback. People are opinionated and will let you know if what you wrote is inspiring or garbage. Secondly, it gets people engaged. I've gone back to a site five times during a day to find out the results of a poll I participated in. If people are passionate about a topic, they want to know if they are in the minority or majority.
Lastly, you've probably seen at least a few quizzes or polls made by BuzzFeed or Facebook, that you suddenly found everyone on your news feed taking and sharing the results for. People go crazy for stuff like that.
A popular one was the Blue or Gold dress question. Another one was Political Compass test. So, whether you want to create polls for research, business, entertainment purposes, or even just for the sake of going viral, here are 10 plugins that can help you do so.
Best Polling Plugins
YOP Poll
Survey Funnel
Wedgies
TotalPoll Pro
Responsive Poll
Surveys by IgniteFeedback
Pollify
Advanced Poll for WordPress
Polldaddy
WP-Polls
1. YOP Poll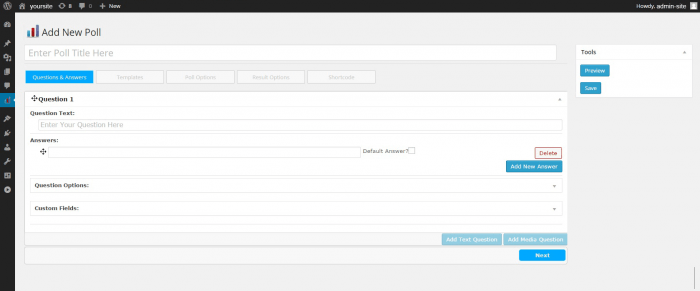 This plugin is extremely easy to use if you're looking for convenience, but at the same time, it has a lot of features to offer, all of which could be accessed from inside your WordPress dashboard.
In terms of poll creation, it gives you the freedom to include single or multiple answers that you can edit at any time and which can be included anywhere you wish on your website. The plugin also enables you to add custom fields to your polls in case, for example, you would like to get your voters' written elaboration for their answers to the poll.
On the user's side, you can choose which data to display (e.g. number of total votes, total voters, poll results, etc.), and on the admin side, you are fed with all the data in real-time as the voting takes place. You have several sorting options for the poll results by which you can sort them in ascending/descending order, or according to their percentages, the number of voters, etc.
At any point, though, you can reset the results altogether and count from zero without losing the poll or its original results. The plugin keeps an archive of all the previous polls along with their results that you can even allow users to access.
Although the plugin can support multiple polls at the same time, you also have the option to schedule upfront a series of consecutive polls and let them be automatically activated one after another. The process of cloning a certain poll to different pages or posts on your website is also very convenient. All you need to do is insert the poll ID.
Finally, YOP Poll gives you full control over who gets to vote and who doesn't. You can limit votes to one per IP address, and you can even ban users from voting based on their IP address, e-mail, or username. These limitation settings can be set for one particular poll or for all of the polls on your website.
2. Survey Funnel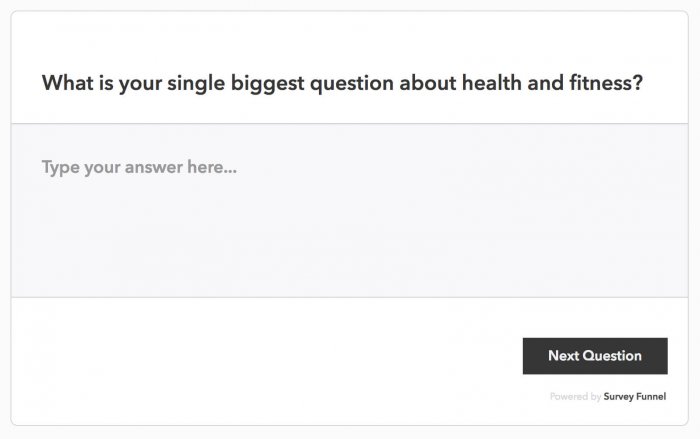 Survey Funnel is the heavyweight champion of our list. Through this plugin, you can choose top-notch professional designs to can use with your surveys whatever their purpose may be. Usually, survey funnel is used for business and research purposes, but you might as well use it for fun trivia quizzes, psychology tests, or political orientation tests thanks to the plugin's score-based system.
The polling features in this plugin are more advanced than in most of the others. For example, Survey Funnel allows you to include branching in your surveys. Here's an example of branching: If user answered with 'a' on Question 2a, show them Question 3a.
If they answered with 'b', show them Question 3b). This enables better segmentation and having fewer questions that seem out of context. In the end, you can redirect your users to various messages based on their survey outcomes.
As a list-building tool, Survey Funnel allows you to incorporate opt-in forms inside your surveys or quizzes asking your users for their contact information and permission for newsletters or otherwise.
Moreover, the plugin can be integrated with e-mail marketing services like InfusionSoft, Drip, MailChimp, ActiveCampaign, and ConvertKit, among others. The plugin is also easy to integrate with landing page builders like teachable, Kajabi, HubSpot, SquareSpace, and many others. That's beside the fact that it is 100% compatible with WordPress.
3. Wedgies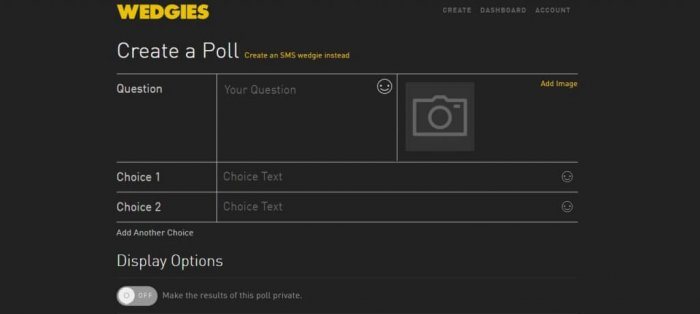 As you can see in the name that was chosen for the plugin, this application basically reduces polls to something a toddler can put on their website. Each of the polling steps is made as simply and interactively as possible, not just for your users, but for you as the admin. Using Wedgies, you can create a poll, post it, and have the voting begin within 30 seconds.
You add the question and the possible answers, share your poll and users can immediately start responding and eventually sharing the poll themselves. These are all cute, animated polls that will instantly catch your users' eyes through any type of screen, from mobiles to desktops.
This plugin has a feature that isn't available in any other plugin on the list. It allows you to have your poll labeled with your own logo and perfectly integrated into the website's layout, no merely be shared on the website. If you have an app, you can do the same over there using Wedgies.
Through its Verified Voting feature, Wedgies allows you to set an e-mail verification prerequisite to voting. That means that anyone would have to enter their e-mail address and confirm it first before they can vote. If you want to really get the most out of the plugin, you can use this verification as a list-building technique.
Last but not least, you would have a lot of exposure potential going with this plugin. Users can share your polls on WordPress, Facebook, Twitter, Tumblr, Reddit, Medium, Storify, or even via SMS.
4. TotalPoll Pro

Here's another real champ! There are very few polling features (if any at all) that the TotalPro plugin has missed. Let's begin with customizability. Polls can't be much easier to create than with this plugin.
Its user interface from which you would be designing your polls is rather intuitive. Every option is quite simply what you think it is. That way you can, in the easiest way possible for you, create a poll that can get the most accurate answers out of your users. Custom fields are a prime feature of this plugin, allowing you five types of fields to choose from, all of which you can trace through your analytics, but we'll come to that later.
To crank it up a notch in terms of styling your polls, you are free to add images, text, video, or audio to any poll. That way you can let your users vote on pretty much anything. But actually, plain polls aren't the only thing the plugin can help you create.
You can run regular polls for sure, but you also have the option to create polls similar in format to the ones you get on Facebook, or you can customize one from scratch. Over and above that, you can run video, photo, or audio contests, as well as full-on debates.
More importantly, that's a plugin that puts mobile display as a priority, and with current mobile internet browsing rates, that's an unalienable feature. The polls that you create via TotalPoll will be easily accessible through virtually any device.
Even more fortunately for your exposure, the plugin is created to be search engine-friendly, which gives your polls an SEO advantage. The ease of copying your polls through shortcodes anywhere else on the internet is another plus for your exposure and your SEO performance.
The stats that you receive for your polls cover everything including your custom fields as we already said, and the numbers come on a monthly, weekly, and daily basis. Here's where this plugin stands out.
Besides the limitation preferences that you can set at will in order to keep whoever you choose from voting on the poll or to limit the votes per poll, the plugin gives you a detailed log of every IP address that voted on one of your polls along with the time of their voting and the browser they used. That way you can counter any cheating attempts.
The last thing to mention here is that TotalPoll facilitates your shift from YOP Poll which we already mentioned, as well as WP-Polls that will come later in the list, without you having to lose any of your previous poll results. The transition is made effortless.
The same goes for its integration capabilities, as is 100% compatible with plugins like WP SUPER CACHE, Varnish, HHVM, Polylang, and several others.
5. Responsive Poll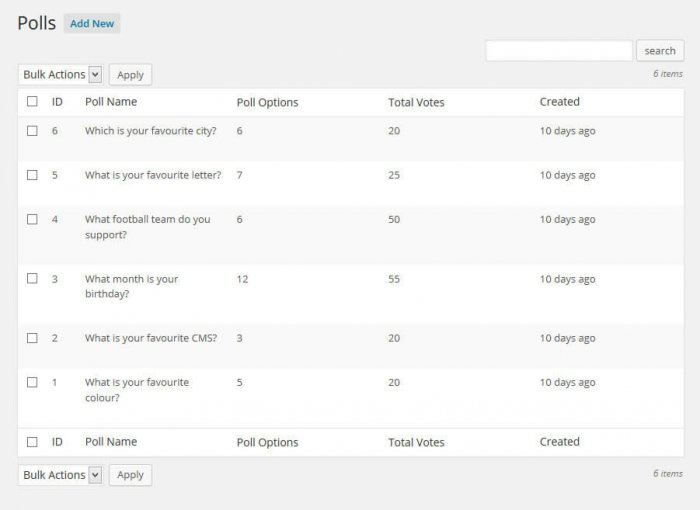 If you are looking to create polls in order to gather statistics that you can use for marketing, business, or scientific purposes, you shouldn't think twice about this one. In terms of poll creation, your polls will be formatted as typical radio button lists. The big advantage that you will gain from using Responsive Poll is in the plugin's result display options.
The plugin comes with 7 animated modes for your result charts, which are updated in real-time as the voting proceeds. If you're going to use the poll results for a presentation or even for the sake of your own convenience, you'll definitely find one or more modes to suit your taste. These chart types include pie, bar, doughnut, line, radar, and polar charts, as well as bootstrap progress bars.
You also have full control over the data you choose to uncover to your users and with what patterns. You can let users view the results before voting (either via a link or right there with the poll), only see the results after they had voted, or not see any results at all.
6. Surveys by IgniteFeedback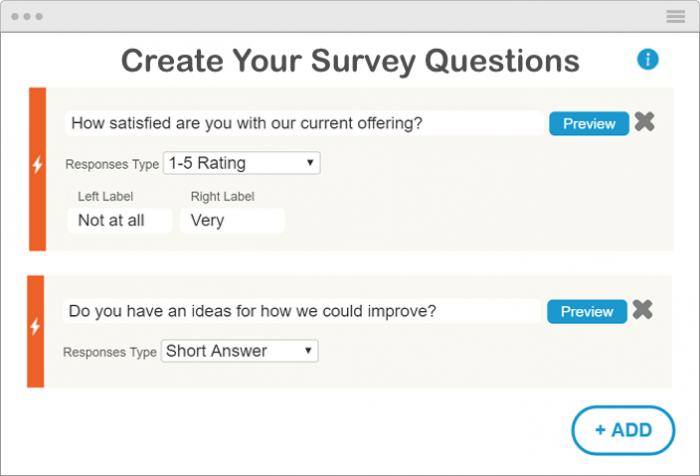 All of the plugins we mentioned until now allow you to create polls and simply publish them on your website or on a specific post. This is probably the only plugin on our list that provides pop-up surveys. Using this plugin, you can create surveys to only appear to users if certain conditions are met. You can set the pop-up triggers to include, for example, new visits, revisits, conversions, etc.
This targeting feature, of course, can be the perfect tool for proper segmentation and the reaching of accurate conclusions based on precise results. You can choose to view these results in real-time by receiving notifications whenever a user responds to one of your polls, or you can set it to issue reports on a daily, weekly, or monthly basis.
7. Pollify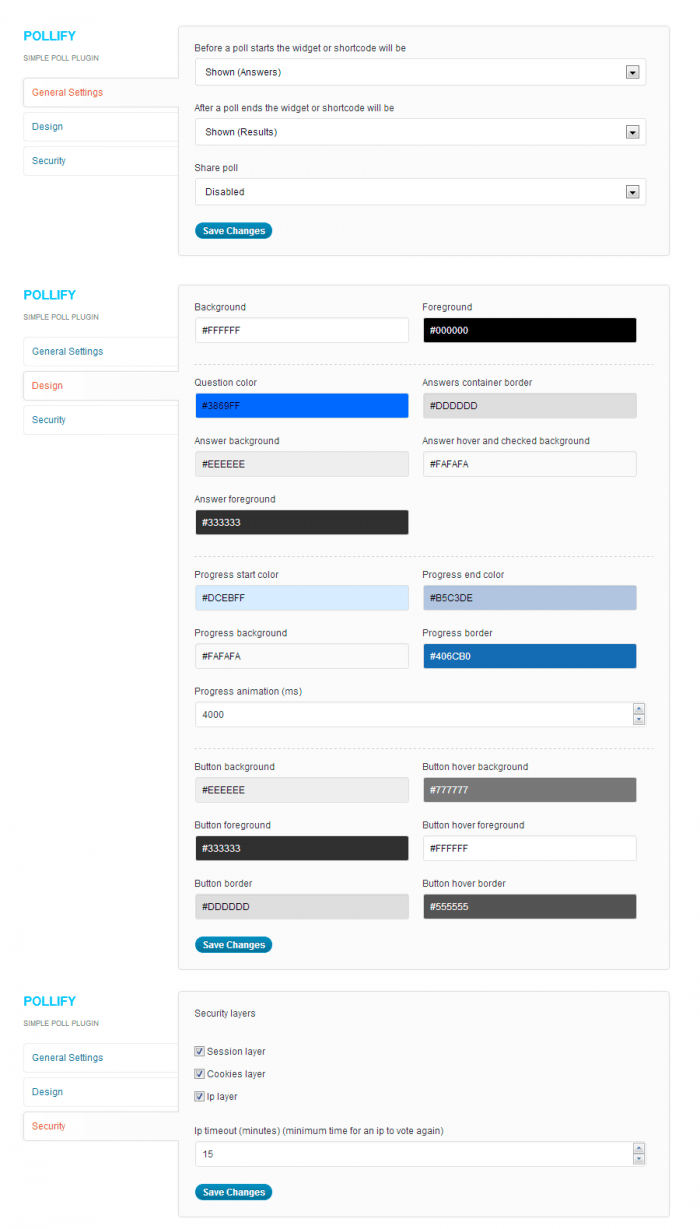 This plugin, in particular, prioritizes security over all other features. If the results are important for your work or research, you don't want security faults to mess them up and in turn produce inaccuracies. Pollify includes 4 different layers of protection that can be enabled or disabled however suits you.
They seem to be tightening up that security a bit more with every version, too, so only expect it to increase. The plugin comes in 5 languages and is open for further translation.
Here is the whip hand! Pollify comes automatically integrated with Google Analytics which will be providing you with your stats. The designs are pretty decent, too, by the way. The plugin has its own animation features and design templates that you can use right away. If you want to extra features of any kind, that could be done using simple shortcodes.
Using Pollify, you can schedule polls beforehand, decide their time limits, and enable your users to not only view the results but even be able to share them on other platforms.
8. Advanced Poll for WordPress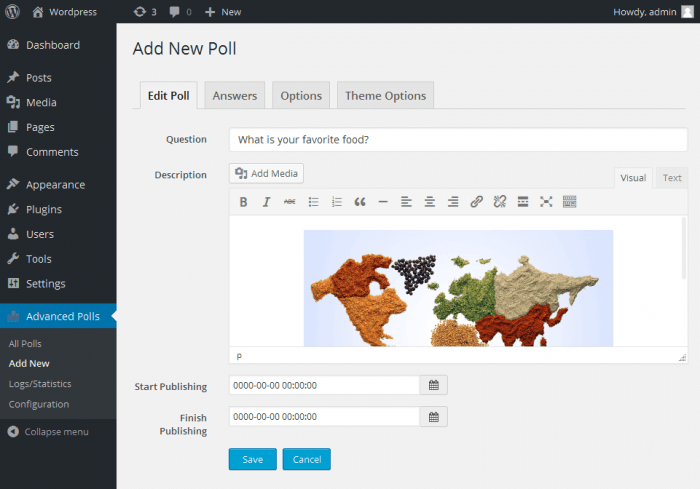 By far, this is one of the most properly-developed WordPress plugins on the market. This balance between rich features and simplicity is not an easy find. Through a dummy-proof interface, you can use any of 8 poll design templates and apply whatever adjustments you want to each of their elements.
These polls can include anything from text to video or audio clips, and you have no particular limit for the number of answers you can include in one poll, nor do you have a limit to the number of polls you can run simultaneously with each other. And you don't need to worry about keeping track.
The analytics feature on this plugin is pretty robust and can handle an intense stream of votes without experiencing slowdowns or statistical errors. You are given detailed logs of your users' voting activity, and you have the capability to block users based on whatever data criteria you would choose.
For extra protection, you can adjust your security settings based on your users' names, IP addresses, and cookies in order to prevent double/fake voting and spams.
9. Polldaddy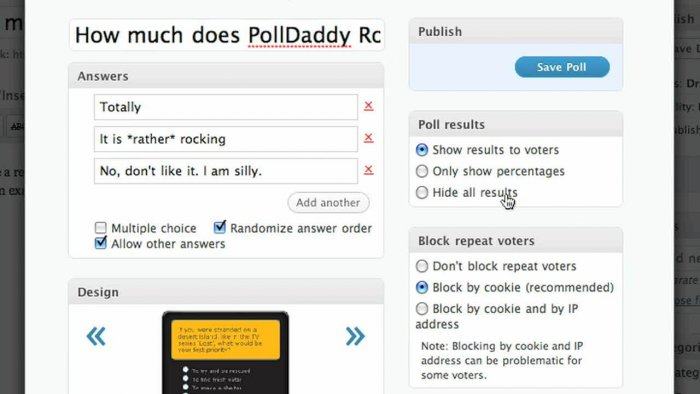 Although Polldaddy isn't exactly filled with extraordinary features, its rather average features perform pretty well. You can create as many polls as you want with as many answers as you want, and these polls can be instantaneously shared on other websites.
You can choose any of 20 ready-made poll designs that come with the plugin, or you can design your own polls. As of the time in which this article is being written, the Polldaddy plugin supports 35 different languages.
Here's a cherry to top the cake; this plugin is also a rating plugin. Using Polldaddy you can give your users a means to rate your content, and in the end, you can display your top-rated posts in a 'Top Rated' widget.
10. WP-Polls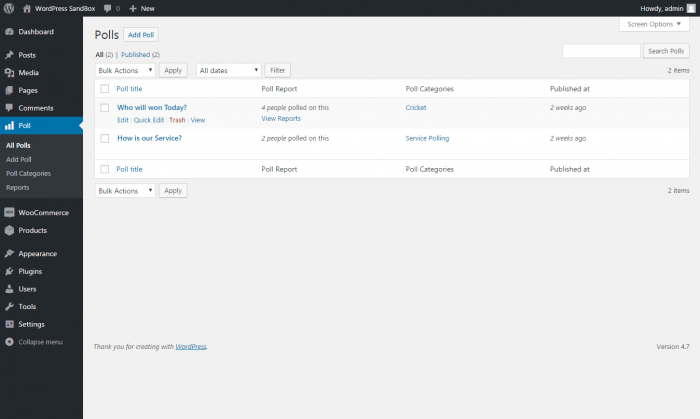 The best thing about WP-Polls is its affordability. It's actually 100% free. Unlike most free plugins, though, its developer Lester Chan has not abandoned it. New updates are always being added to the plugin, and on in his website, Chan even addresses issues that people who have contacted him are facing with the plugin, and when a change is due, he makes it. Having such user support backing you up (again for free) is an ultimate bonus.
As for the plugin's features, this AJAX-based plugin is totally customizable and can support multiple answers very smoothly and quickly. Needless to say, it is completely compatible with WordPress websites. The stylistic element of the plugin is fairly impressive, and with the use of simple shortcodes, you can add a few convenient extra features to spice up your layout.
Finally, and most importantly, in terms of stats, the plugin is comparable to its more high-end competitors. It consistently provides you with the numbers for total votes, voters, polls and poll answers.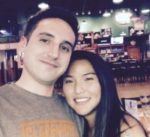 Nathaniell
What's up ladies and dudes! Great to finally meet you, and I hope you enjoyed this post. My name is Nathaniell and I'm the owner of One More Cup of Coffee. I started my first online business in 2010 promoting computer software and now I help newbies start their own businesses. Sign up for my #1 recommended training course and learn how to start your business for FREE!
Reader Interactions