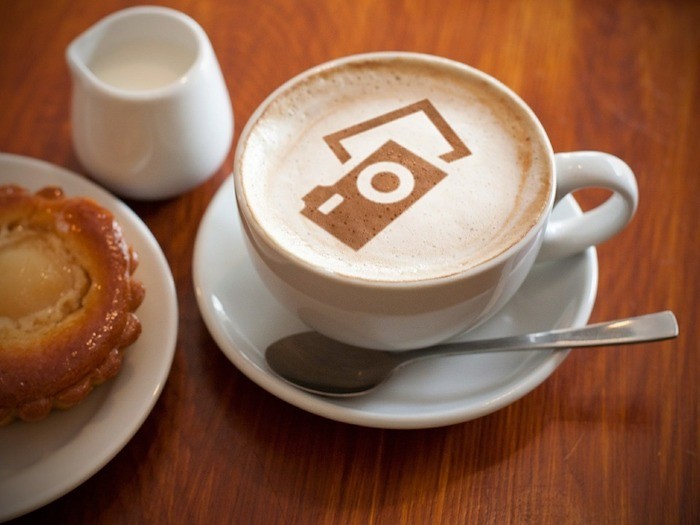 Food blogging is surely not an easy job. As a food blogger, you have tons of responsibilities if you want to appeal to a wide audience and build a loyal base of readers. Creativity is key to achieving such success, and so you should preserve your mental capacity to coming up with new recipes and interesting food reviews.
Unfortunately, though, there is a less exciting administrative aspect of running a food blog, which involves editing your posts, managing newsletters, scheduling your content, and many other tasks that usually lack any fun but are necessary to the maintenance of any website.
These tasks do not have to be so daunting, though. There are plenty of tools out there for WordPress websites that can make your job much easier and allow you to save that energy for the cool, creative face of food blogging. In this list, I will introduce you to 6 plugins that any food blogger should use to run their website.
For creating and sharing recipes, here are my recommended recipe plugins.
Best Plugins For Food Bloggers
WP Ultimate Recipe
Mailchimp
Editorial Calendar
VaultPress
WP Smush
Yoast SEO
1. WP Ultimate Recipe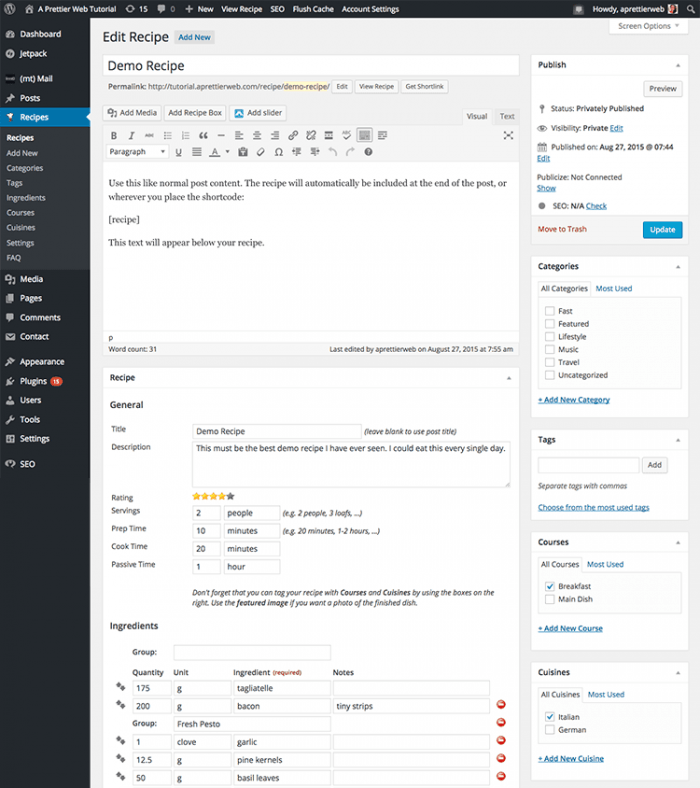 Obviously, the first and most important tool you will need when running your own food blog is a functional recipe plugin, and if you are looking for one that is optimized for Google, works responsively with any type of device, and can be translated to multiple languages, then you should definitely consider using WP Ultimate Recipe.
WP Ultimate Recipe works with simple shortcodes which you can use to add your recipes anywhere on your blog. Although these shortcodes are not at all confusing even if you are just getting started with your WordPress blog, there is even a simpler solution, and that is the "Insert Recipe" button which allows you to add as many recipes as you want.
The recipes can include all sorts of media files. You can include photos on each step inside the recipe, as well as post a recipe video. All of that is included in the metadata and can then be used to give your SEO a nice boost.
The plugin uses schema.org metadata that is optimized for the Google Recipe search engine. That's exactly where you would want your food blog to appear at a high ranking, and WP Ultimate Recipe will help you do so. In addition to that, the ingredients, cuisines, ratings, course types, and any other information that is included in the recipes can be displayed in a tag widget to make it easier for readers to find other relevant recipes.
On the reader's side, I already mentioned that the plugin's recipes can be displayed on any device or screen. WP Ultimate Recipe with Google AMP (Accelerated Mobile Pages).
That no doubt has its effect on your ranking on Google as well. Moreover, your blog's visitors will have a recipe search engine on the blog to navigate through your content. They can share or print recipes as they want, too. Also, users will have the option to adjust their servings for any recipe and the plugin will generate new ingredient quantities based on their request.
The premium version of WP Ultimate Recipe has much more to offer on top of what I just mentioned. First of all, it lets you create recipe templates using the plugin's template editor, whereas the free version only allows you to adjust the styling (color, font, etc.).
You can also customize fields and tags for the recipes. One of the premium features enables the plugin to automatically gather the nutritional data for your recipes without you having to go about analyzing your ingredients yourself. The best thing about the premium WP Ultimate Recipe, though, is its engagement of the visitors. Your readers will get to save their favorite recipes, submit their own recipes (with your approval), and rate yours.
The last thing to be mentioned here is that this version has a user menu feature that can generate shopping lists for readers who are interested in making one recipe or another.
Note: The creators of WP Ultimate Recipe now recommend their updated (and stripped down) version of the plugin, WP Recipe Maker.
2. MailChimp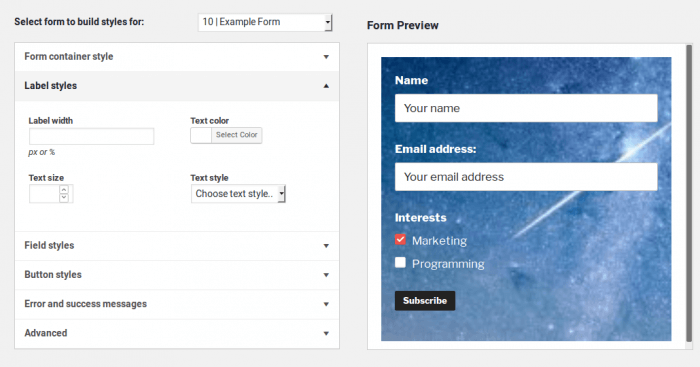 Putting out amazing content consistently on your blog is an almost guaranteed path to making your food blog succeed, but at the end of the day, readers have limited time spans in which they can get on your blog to view the updates.
What you end up with is a lot of wasted content or at least content that did not exactly get the viewership that it deserves. That's why newsletters should be in your strategy since they enable you to bring all of your latest content right into the reader's inbox where they can instantly access it.
For that purpose, MailChimp is arguably your best option. MailChimp is currently one of the most popular newsletter plugins among WordPress website operators, with over 1 million websites managing their mailing lists through it.
The MailChimp for WordPress plugin will save you a lot of time that you normally would have wasted on setting up different signup forms and embedding them across your website. The plugin lets you create multiple forms quite easily which you can then use to target various segments of your audience.
Better targeting is facilitated through the plugin's ability to gather us much information about users as you might need to determine their particular interests and the tone they would like to be addressed in. That way you can customize your newsletters based on these different segments' preferences.
All of the forms are mobile-optimized, and you can integrate MailChimp with any other list building plugin that you might be using. There are various form templates and styling options to choose from, and MailChimp forms are designed to be seamlessly integrated into any WordPress theme.
These are not the only things that MailChimp can be integrated with. The plugin actually comes with a long list of integrations, including BuddyPress, which I will come to later on in the article, as well as MemberPress, Events Manager, and Easy Digital Downloads.
The premium version of this plugin will provide you with constant reports about each form, and that way you will get to find out which of your forms has been most effective. That version also allows you to send out automated email notifications whenever a form is filled by a visitor.
3. Editorial Calendar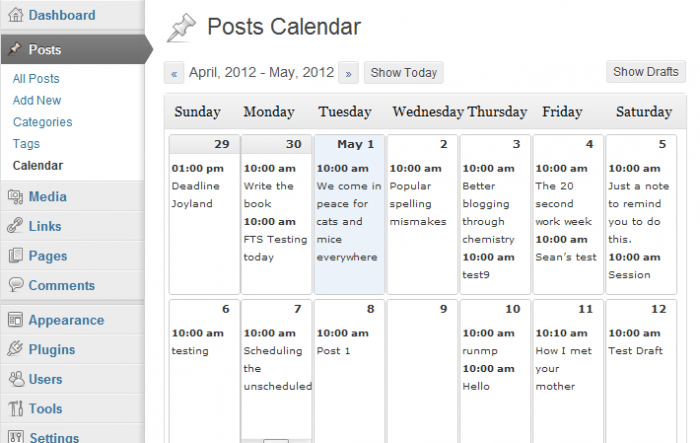 As you work to consistently put out more content that your readers might find helpful and to answer to special requests, you are going to need a proper schedule to take away the anxiety of having to plan your posts in advance.
Active food bloggers generally use calendars on a regular basis. Since the default WordPress schedule can be a little inconvenient, the Editorial Calendar plugin can make up for that. The Editorial Calendar works with a drag-and-drop interface that lets you move posts around from one date to another without the slightest effort.
Editorial Calendar also has a drafts drawer that will enable you to manage your draft directly through the calendar, as well as edit post titles, content, and posting time right away without having to go to the post itself. On top of that, Editorial Calendar is designed to manage the work of more than one writer, which means that if you have a team of bloggers working with you, you can pool your posts together in the calendar and manage them simultaneously.
4. VaultPress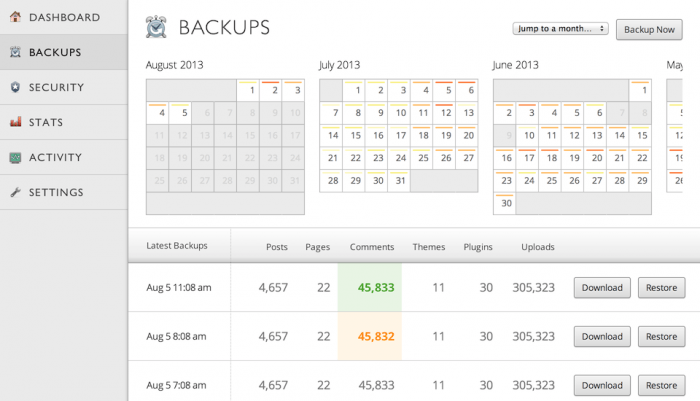 As a food blogger, your recipes can be a major part of your business. After all, that is your portfolio based on which readers will come to you and food brands might seek your endorsement. You cannot manage to work for months or years producing that content and building your reputation only to lose all of that because of a server error or a malicious attack on your blog. You have to back yourself up, and VaultPress is just what you need for that.
By installing VaultPress, you can leave it to the plugin to make backups automatically on a regular basis that you can set up yourself. The plugin enacts automatic backups whenever you post something new, and you can schedule them to match your editorial calendar.
You'll get to monitor its operations in real-time, and you can download any items in your database by looking through the plugin's backup history. Using an FTP or SSH connection, VaultPress also enables you to instantly restore any of these backups.
In addition to backups, VaultPress provides security to your blog by running constant scans on the entire website searching for any potential danger that might be caused by a file or any sort of suspicious activity.
You'll receive reports via email or inside your dashboard whenever any danger is detected. Finally, I would have included a separate anti-spam plugin in this list, but VaultPress is actually partnered with Akismet Anti-Spam, probably the largest and most popular WordPress plugin in this category at the moment.
Since Akismet is integrated with VaultPress, you can let it take care of any spam activity, thus bettering your search engine standing as well as protecting the integrity of your website and your brand.
5. WP Smush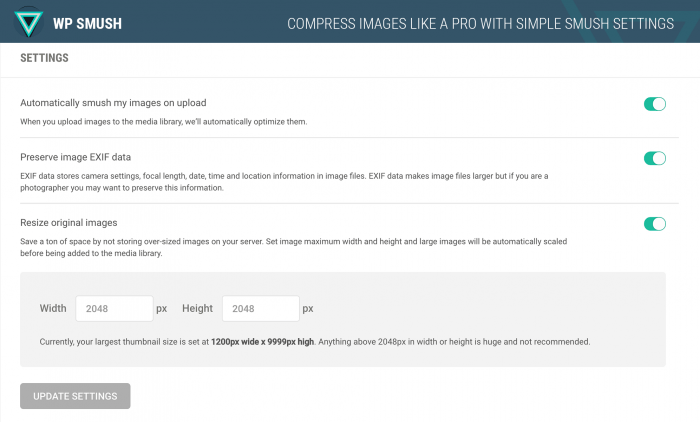 With all the images of delicious food that you'll be posting, you want to make sure that the high-quality of the pictures does not affect your website's loading speed. Also, you don't want to compromise on the quality to counter that because, simply, high-resolution images of food are substantially more mouthwatering. WP Smush does perfect lossless compressions of images, both existing and new.
As soon as you install the plugin, it will start taking care of your old images, thus saving up a lot of your server space and consequently raising the loading speed.
After that, any new image that you post will be automatically compressed and resized to match the dimensions that you set. You can go with the "super smush" option, which doubles the level of compression, but you are going to sacrifice some of the quality.
If you happen to upload a specific image and you want to retain its original quality, you don't have to worry about the automatic compression. WP Smush lets you restore the originals quite easily.
Also, the plugin does not only operate on the images inside your WordPress image library. You can choose various directories, including the Amazon S3 cloud-based media library if you happen to use it, and the plugin will take care of these as well. The pro version of WP Smush does all of that twice as fast as the free version.
6. Yoast SEO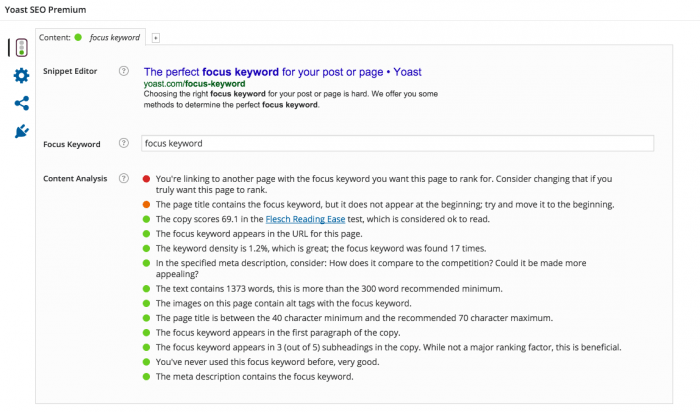 It goes without saying that for all of these efforts to gain the exposure they deserve, you will need to push your blog upward in the Google search engine ranking. Yoast can be of great help in that area, and that's why more than 5 million websites of all kinds are using it for their SEO.
The plugin will generate an advance XML sitemap for your blog. If you don't know what that is, it's basically an XML file that lists all of your website's URLs and adds next to each URL a set of information like when it was last updated, how important it is for your website, etc. Google's web crawlers search for this file when indexing a website.
Yoast will also help you avoid duplicate content by letting you set canonical URLs. For the sake of better branding and rich snippets, Yoast enables you to better manage your titles and meta descriptions, and by providing you with a thorough SEO analysis of each post, the plugin will help make all of your content as SEO-friendly as possible.
Finally, Yoast's internal linking features can work wonders for your quality score in addition to driving more traffic to your older posts.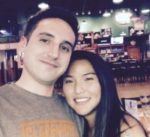 Nathaniell
What's up ladies and dudes! Great to finally meet you, and I hope you enjoyed this post. My name is Nathaniell and I'm the owner of One More Cup of Coffee. I started my first online business in 2010 promoting computer software and now I help newbies start their own businesses. Sign up for my #1 recommended training course and learn how to start your business for FREE!
Reader Interactions