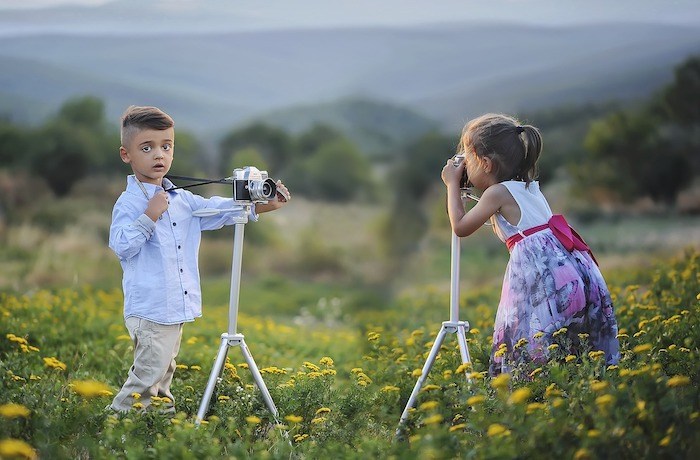 If you're a fashion blogger or are looking to get into that anytime soon then you need to know what are the tools that will help you do that job optimally. There are certain functions specific to that field that will require a special set of tools that will help you manage your website, enhance your content, gain as much exposure as you possibly can through various platforms, and ideally make the best out of that exposure.
In this list, I'm going to introduce you to a number of plugins that work perfectly with WordPress, and which you will need in order to effectively, and also comfortably, run your website whether you are a pro fashion blogger, a beginner, or someone who is only considering the idea of getting into fashion blogging.
Here are 7 of the most important plugins to use for your WordPress fashion blog.
Best Plugins For Fashion Bloggers
Envira Gallery
Social Warfare
Instagram Feed Pro
AdSanity
Thrive Leads
Shoppe
Yoast
1. Envira Gallery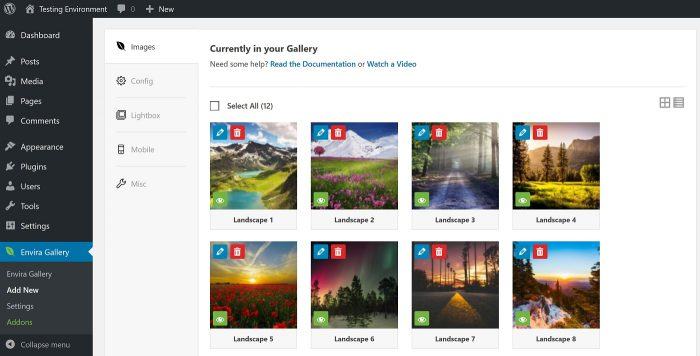 The first thing that you'll need for your fashion blog is obviously a tool that can help you organize and display your images. Envira Gallery does a phenomenal job at that. You won't need the help of a developer in order to be able to set up a few image galleries. With the plugin's drag-and-drop builder, you'll get to create as many galleries as you want.
These galleries can include both images and video, are formatted in a responsive manner that makes them suitable for display on any type of device, and you can allow slideshows and lightbox display to these galleries, too.
Envira Gallery comes with several pre-built templates that you can use in customizing your galleries, and you can either take one of these and style it using the plugin's editor or use the drag-and-drop builder to create your galleries from scratch.
The builder will let you organize your galleries into albums that can be navigated and searched using tags. Also, through deep linking and pagination, you can make your galleries more optimized to search engines.
In addition to being able to add galleries to your posts, Envira Gallery also facilitates the creation of standalone galleries. If you happen to own the images that will be displayed in a gallery, whether as the photographer or the designer, Envira Gallery lets you watermark images through one of its add-ons.
There's another add-on that allows you to set a password on certain images to serve as an extra layer of protection. Since I mentioned adding videos to your galleries, there is an add-on for that, which enables you to add your own videos or embed videos from YouTube, Wistia, and Vimeo.
2. Social Warfare

Fashion is all about trends and vogue. Another realm that is all about those two things is social media. Since fashion bloggers fall under the category of trendsetters, and those who still aren't there probably aspire to that, it only makes sense that you have to really make giving your social media presence a boost a topmost priority for your fashion blog. Social warfare can have you covered in that area.
The plugin can spread social sharing buttons for all of the major platforms across your entire website.
Sure, there are many social sharing plugins out there, but there's a reason besides the variety of social platforms that Social Warfare gives you access to that makes it particularly useful for fashion bloggers. The truly special thing about Social Warfare is its button designs.
Aesthetics were obviously given some thought, something which most social sharing button plugins do not do. Even if you're going to have social sharing buttons scattered across multiple spots on every page they still wouldn't be disturbing to the eye, something which you don't want your fashion blog to ever be. Social Warfare's buttons will fit right in with the other aesthetic elements of your blog, giving a somewhat soothing overall look to it.
On the more practical side, Social Warfare is lightweight in every sense. It has an extremely easy setup, and it doesn't cause any slowdowns when visitors use it. That's a common problem in social sharing plugins, and it usually harms a website's SEO in addition to being inconvenient for the users.
That's definitely important for a fashion blog because, as I already mentioned, a lot of your posts can contain high-resolution content, which means that you cannot afford to have lagging social sharing buttons. Fortunately, Social Warfare does not have that problem at all.
Also, a large part of your credentials as a fashion blogger and basically the aspect that will make your endorsements valuable to brands and therefore can be your main source of revenue is basically the size of your audience. Social Warfare preserves your social share counts even if you happen to change your domain name one day.
That's in addition to robust analytic tools that track every shared link from your blog and lets you monitor its performance on social media. That includes Twitter, Facebook, Pinterest, LinkedIn, Reddit, Tumblr, Buffer, Whatsapp, and various other platforms.
3. Instagram Feed Pro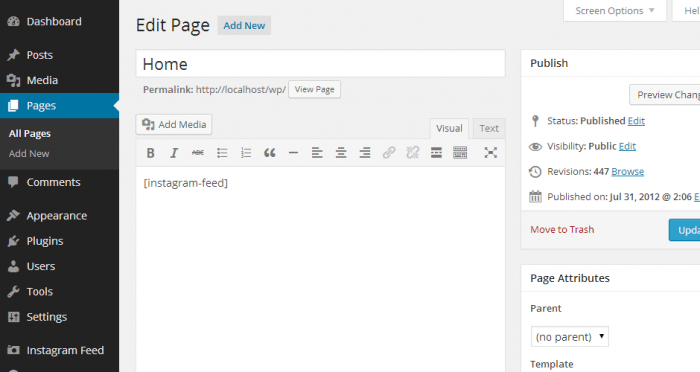 Since most social sharing plugins do not cover Instagram, including Social Warfare, you will need to use a separate plugin for that. That's where I would like to introduce you to the Instagram Feed Pro plugin.
Obviously, Instagram is integral to fashion blogging. That is where all of the powerful voices in the fashion industry, from brands to influencers, do most of their interaction with consumers. The Instagram Feed Pro will let you bring that action to your own website by allowing you to display your Instagram content and integrating it into your website's overall theme.
The plugin is set up so as to automatically update the feed on your website whenever you upload a new image to Instagram. In addition to that, it allows you to curate content from other Instagram accounts, as well as hashtags, location IDs, posts you have liked, etc.
There is a carousel effect that can add some liveliness to that feed, as well as different header styles and coloring options. Since that is almost essential for displaying Instagram, the plugin will generate Instagram feeds that are fully-responsive to any type of device or screen, and that works particularly well with touchscreens.
4. AdSanity
As your fashion blog grows, or if it already is large enough, then you will probably want to capitalize on that traffic by displaying ads on your website. It might even add to your level of authority on fashion if you serve advertising clients exclusively from inside the fashion industry. Using simple shortcodes and template tags, you'll get to display ads wherever you want on your website.
The plugin allows multiple publishing options, enabling you to manage your ads quite comfortably and monitor their performance through the AdSanity analytics tools.
There are some amazing features that can be obtained through the plugin's premium add-ons. There is a conditional ad appearance feature that lets you target users more accurately and contextually by setting up some triggers to the ad display. There are also several add-ons that will enhance the plugin's tracking and reporting capabilities, including a Google Analytics add-on.
Interestingly, there is an add-on that detects ad block software on the visitors' browsers and prompts them to disable the blockage. Finally, one of the add-ons will let you display video ads as well.
5. Thrive Leads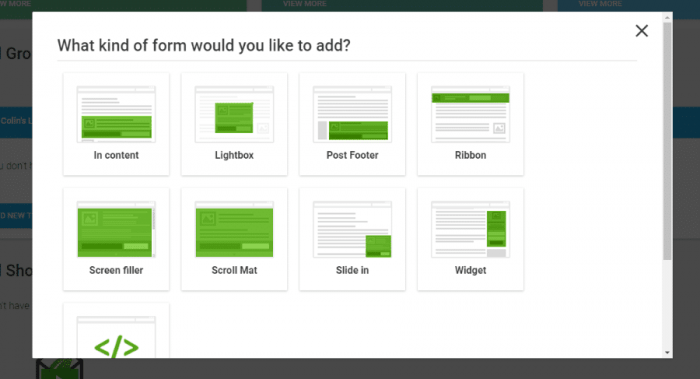 As I mentioned above, and as you surely know, your significance as a fashion blogger depends in large part on the size and type of your audience. Well, that's a clear reason why you need to build larger lists of leads for various purposes.
First of all, having more subscribers to your newsletters will make your word definitely more authoritative and effective since users will be getting regular insights on the fashion industry from you. If that list becomes large enough, you can start generating revenue from sponsored endorsements of certain fashion brands in your newsletters. Also, you can sell these leads to brands to be used in promotion and targeting. The list goes on.
With Thrive Leads, you will get to easily create all sorts of opt-in forms using the plugin's drag-and-drop editor. These forms are designed to be neat and clutter-free, as well as capable of targeting users with a stunning degree of precision.
The plugin is also quite smart since it allows you to create smart opt-ins that detect regular visitors and therefore do not repeatedly appear, as well as detect users' activity so as to catch them as they are about to exit from the website by giving them an opt-in form to fill. In addition to that, you can set up various triggers for the forms, and test different scenarios through the plugin's A/B testing feature and thus be able to choose your optimal options.
6. Shoppe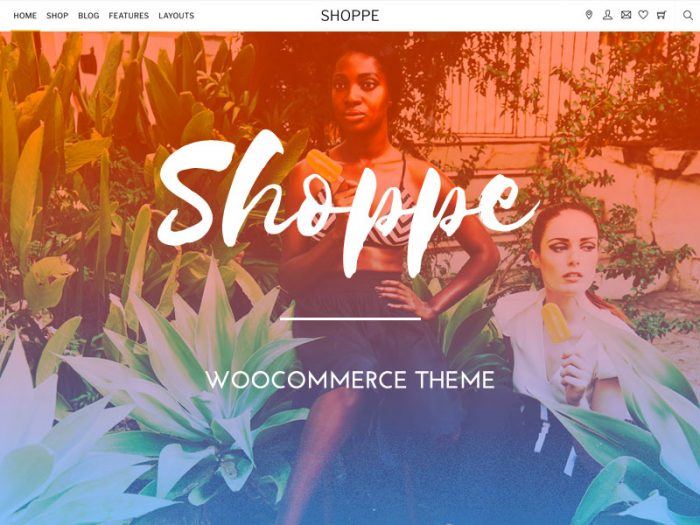 You will only need this theme if you want to set up an online shop. Shoppe is a WooCommerce theme that can be used for multiple purposes including online apparel stores. If you want to use your fashion blog to sell your own line or to feature products from any brand in the industry, then you should definitely consider using it.
Within a few simple steps, you will have an online shop that is ready to operate. You can then use any of the theme's multiple design templates to give your website the right look. After that, you can use the Themify drag-and-drop builder to design the layout that you want with full flexibility.
The theme already comes equipped with over 60 regular layouts and 20 shop landing page layouts. In addition to that, there are 14 header layouts, 9 archive layouts, and 6 footer layouts. That's probably more than you will need to showcase your products.
The shop itself has multiple extremely useful and practical features. These include an Ajax cart, wishlist, quick look, gallery slider, images zoom, and product share features. The plugin's bonus add-ons can multiply the convenience of that experience for your customers, too.
7. Yoast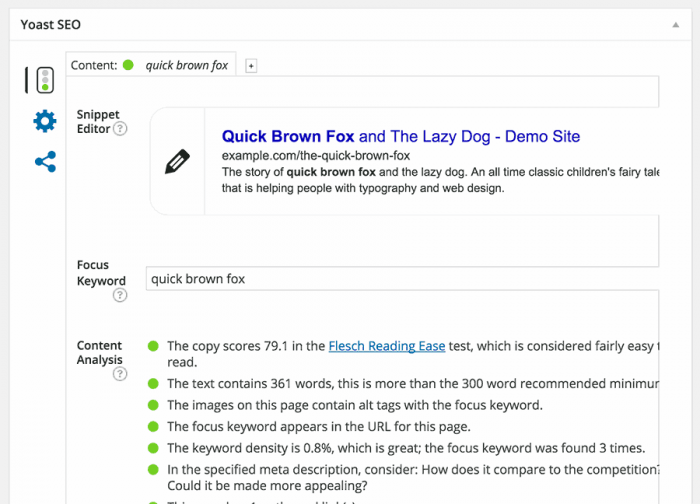 To top all of that, you need to make sure that your blog gains proper exposure on search engines like Google. After all, that is where most people still go to find what they are looking for, and so you want to make sure that whenever someone types in the keywords relevant to your niche, your blog will be among the top results. Yoast is a reliable tool to achieve that. The plugin has been on the market since 2008 and there are 5 million websites that are currently using it.
Yoast uses advanced XML Sitemaps to make your website more organized, navigable, and up-to-date with all the relevant information about your URLs. That is one of the first things that web crawlers look for when indexing a website. The plugin also helps you avoid duplicate content, something which is usually penalized by Google and other search engines.
The titles and meta-descriptions that the plugin facilitates and provides templates for will help you enhance the effectiveness of your branding as well as improve the snippets that appear with your URL in the search results.
Moreover, Yoast will help you write your content in an SEO-friendly manner, guiding you step by step throughout the process and allowing you to preview how your final product will appear to the user. It will also enable you to restructure your website more effectively and handle the bugs that the plugin detects.
The plugin can be expanded using premium add-ons to include some more practical features. For example, you can have news, videos, and your WooCommerce shop optimized for search engines using Yoast. There are also premium add-ons that will help you choose your keywords and give you suggestions for internal linking techniques that will substantially affect your website's search engine ranking.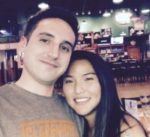 Nathaniell
What's up ladies and dudes! Great to finally meet you, and I hope you enjoyed this post. My name is Nathaniell and I'm the owner of One More Cup of Coffee. I started my first online business in 2010 promoting computer software and now I help newbies start their own businesses. Sign up for my #1 recommended training course and learn how to start your business for FREE!
Reader Interactions