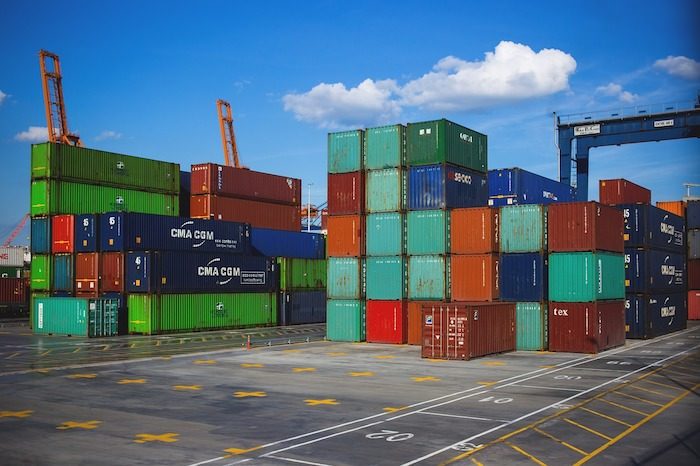 Providing customers with a means to track their orders on your website has become a crucial function of any successful e-commerce business. Unlike in traditional brick-and-mortar purchases, users have no way to know where their orders are at the moment other than being able to digitally track their orders. Otherwise, you might have to maintain a call center in your company to answer customers' inquiries about their shipments.
It's not only a matter of curiosity, too. When products move from one country to another, they might encounter certain difficulties with the customs authorities of either of the two countries or any transit country in the middle.
A problem could occur with the courier company itself which might affect the shipment of the customer's package. Another possibility could be that the customer will be away from their point of delivery during the shipping process and would like to make sure that they can be there when it arrives.
All of these possibilities make it necessary to incorporate such a system into your website. However, order tracking systems are particularly difficult to maintain because they involve a great deal of data processing and network management. You need to make sure that the information is coordinated between your store, the courier company, the customer, and every point in between. Instead of having to bear that burden, you can simply use an order tracking plugin.
There are plugins in that category that can put in place a whole system for that purpose that includes tens or even hundreds of shipping service providers that your customers can choose from. That alone could be one of your website's major sources of appeal to customers. In this article, we will go through 5 of the top order tracking plugins that you can use for your WordPress website.
Best Order Tracking Plugins
YITH WooCommerce
Etoile
AfterShip
WooCommerce Shipment Tracking Pro
WPCargo
1. YITH WooCommerce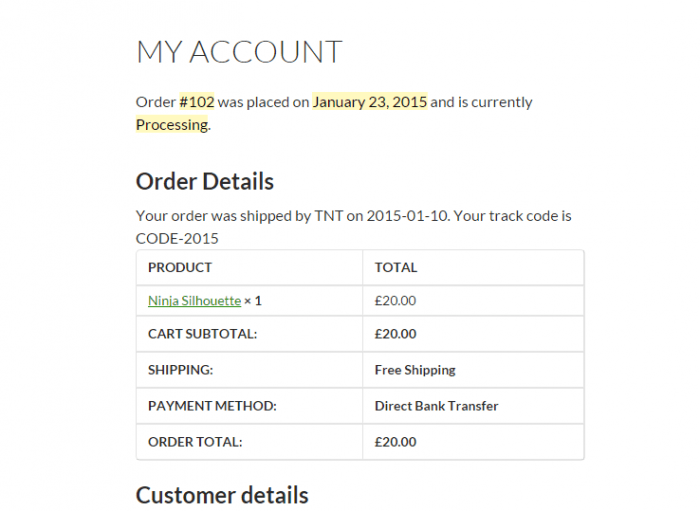 WooCommerce is one of the most powerful e-commerce platforms out there at the moment, and if you're running your online store on WooCommerce, then you are probably set for everything that you need in order to conveniently sell your products to your customers… except for one small, yet crucial, detail. WooCommerce does not include order tracking in its core features.
Order tracking options are now integrated into any worthwhile online store, and you will rarely find a prominent brand not allowing its customers to know where their products are at every moment from the time they make their purchase until the product is right at their doorsteps.
WooCommerce already handles almost everything for you, but when it comes to shipping status, you probably have had to deal with plenty of inquiries from customers, some of whom might be dissatisfied because they are under the impression that you are the one behind the delay. That is simply because they can't see for themselves. Well, YITH WooCommerce was made specifically to address this issue.
YITH WooCommerce lets your customers track any orders that they make on your website from the moment they place the order until they physically have it. The plugin lets you customize the messages that you want to appear with the order and decide where exactly you want them to appear. Using placeholders, you can have the customers' details automatically incorporated in the messages.
Just like it allows your users to track their orders by a click of a button, the plugin makes order tracking easier on you as well. There are several WooCommerce plugins that can integrate with this one in order to make the sales and delivery processes more coherent and complete. These include YITH WooCommerce PDF Invoice and Shipping List, YITH WooCommerce Bulk Product Editing, and YITH WooCommerce Product Bundles.
Finally, YITH WooCommerce is set up to track orders that are being delivered by a huge list of carriers from all over the globe. These carriers include Aramex, A-1 International, MyHermes UK, Canada Post, New Zealand Post, Overnite Dubai, Chilexpress, Afghan POST, Bring Denmark, DHL, Deutsche Post, just to name a few. There are around 200 carriers located in almost every region in the world.
2. Etoile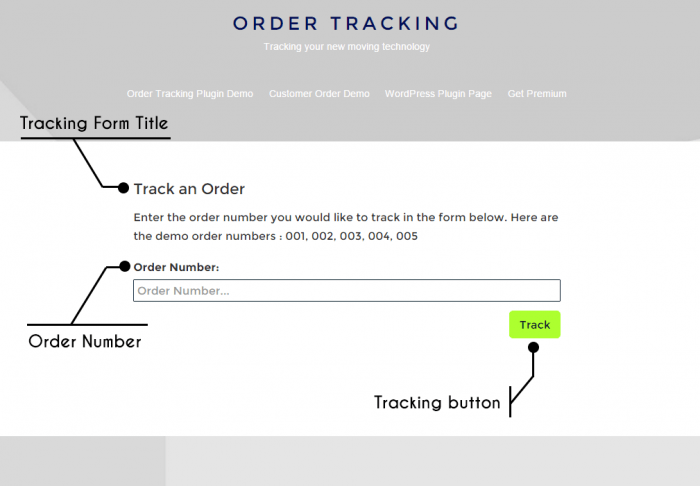 Etoile Web Design has quite a powerful team behind its name developing solutions for a wide range of problems. You will find their order tracking plugin among the top recommendations by anyone familiar with WordPress or WooCommerce. Through simple order numbers, the plugin allows users to track their orders quite easily. You can assign orders to your team members, too, putting each member in charge of a specific set of orders.
The good thing is that you do not have to adhere to a template for the order forms. Different product categories may require different fields, and so this plugin allows you to customize fields, statuses, and labels as you wish. You are also provided with many options with regards to styling, enabling you to create an appealing theme for your order tracking interface.
These styling features come with the plugin's premium version, though. Moreover, the plugin is seamlessly integrated with both PayPal and WooCommerce. You can activate any of these integrations through a premium add-on.
As the admin, you will get to hide or delete orders at will, as well as customize order alert emails that can be sent out automatically based on the order's tracking status. You can also add extra barriers for users to view the tracking information if you are using the premium plugin. For example, you can require customers to log in to WordPress before getting to view certain details about their orders.
3. AfterShip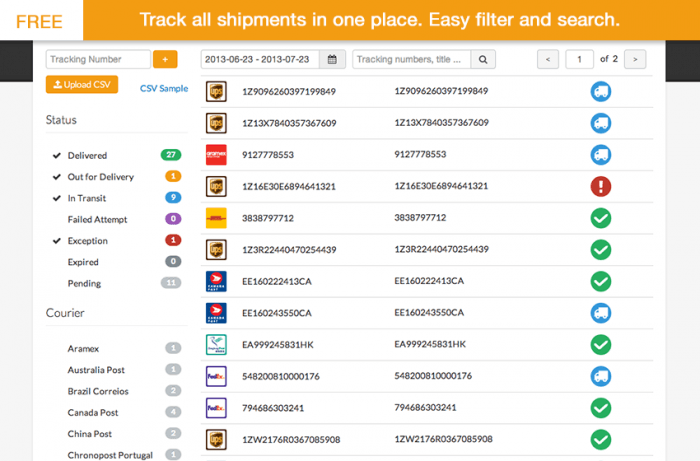 It's hard to cover all of the features offered by this plugin, but I'll do my best to cover the main ones. Using top-tier technology (most importantly Google Cloud Platform and algolia), AfterShip enables customers to track shipments from multiple channels at a click of a button.
The plugin automatically detects couriers using the format of the tracking number and the list of couriers that were selected to serve the orders on your website. You can add or remove any of 465 different carriers. Updates are provided to customers about their shipments every 3-6 hours, and AfterShip displays these updates in a smooth, understandable layout that all of your users will find handy.
AfterShip lets you customize your order tracking interface to fit into your website's theme, as well as incorporate your brand and content into it. You can even embed social media content from your brand's profiles on Facebook, Twitter, or Instagram on your website's tracking page.
Using simple shortcodes, you can customize your tracking button as you like it to be and embed it wherever you want on the website. Customers will not need to do anything beyond clicking that button to receive all of the updates on their orders. A spot that is recommended for placing the tracking button is on the order history page which will appear pretty intuitive to your customers.
By enabling you to customize the content of your notification and update emails, AfterShip helps you make the experience more interactive for your customers. You can set up triggers for these emails and simply automate them. Notification can be sent via SMS as well.
After the shipments are made, AfterShip provides you with some robust analytics on the overall performance of your deliveries. It lets you search and filter data, as well as calculate delivery time and be able to determine your top-performing destinations and couriers. It also enables you to detect any abnormalities in your shipping activity.
That way you can immediately weed out any sources of inefficiency in your shipping system. Last but not least, AfterShip integrates with a wide range of plugins from various categories. There are even several premium bots and extensions that were specially designed for AfterShip, such as the AfterShip Facebook Bot, Telegram Bot, and Chrome Extension.
4. WooCommerce Shipment Tracking Pro

Here's another plugin that was specially designed for WooCommerce-based online shops. It works with a wide range of carriers from all over the world. The major ones among these carriers are FedEx, UPS, Royal Mail, Aramex, myHermes UK, Hermesworld, Canada Post, and TNT.
There are other carriers from various regions around the globe that are covered as well, and, on top of 30 major carriers, there are over 50 lesser-known international carriers that you can add through the plugin's admin settings. The plugin enables you to incorporate shipment tracking information quite easily within a few simple steps.
You can customize your own order completion emails, order tracking pages (accessible from inside the customers' accounts), and order detail pages. Using the plugin's features, you can then have the customers' order details added to these templates that you designed.
Besides allowing you to add shipping service providers, you can also remove any of the ones included if you wish to do so for any reason. Through APIs, the plugin enables your customers to receive real-time updates when their products are being shipped by certain shipping companies.
Otherwise, they would get milestone tracking updates. You can customize the tracking messages, too. Information can easily be transferred to and from this plugin. You can export the tracking data to a CSV file, and you can import tracking numbers just as easily.
5. WPCargo

WPCargo is 100% compatible with WordPress. Upon installing it, your website becomes fully equipped to provide customers with round-the-clock updates about their shipments. WPCargo automatically generates a tracking number for each order, and it supports barcode scanning which you can use in order to place and register the order in the first place.
Using the plugin, you can customize update email notifications and have them sent automatically to your customers in response to certain triggers that you get to determine. An order can include multiple packages, and these packages can be tracked simultaneously, displayed in the shipment history, and included in the email updates.
The scope of WPCargo's utility really appears in its premium add-ons, though. There is one for each function that you might need in order to provide your customers with a comprehensive order tracking system. I will list the features separately, and you should note that each feature comes with its own add-on. You can be capable of sending out updates via automated SMS.
These have to be set up through One Way SMS, Twilio, or Mobily.ws. There is another feature that enables customers to have their own profiles on your website through which they can track their orders.
The plugin already supports USPS and FedEx, but using one of the add-ons, you can add other courier companies and allow your customers to track them through your website. You can also give users the option to add extra packages or order details and have them included in a single shipment with one tracking number. That would, of course, make the tracking job substantially more organized.
For extra efficiency and security, the plugin has an add-on that enables electronic proof of delivery. Customers will be able to give their digital signatures when they receive their orders. Although there are still many add-on features that I didn't cover, I will end with one that alone includes several features.
That is the shipping services API. This feature allows the creation of shipments, printing of shipping labels, pickup requests, the attachment of additional documents, and basically, enables you to provide your customers with all the functions that they might need to conveniently track their shipments.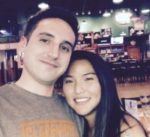 Nathaniell
What's up ladies and dudes! Great to finally meet you, and I hope you enjoyed this post. My name is Nathaniell and I'm the owner of One More Cup of Coffee. I started my first online business in 2010 promoting computer software and now I help newbies start their own businesses. Sign up for my #1 recommended training course and learn how to start your business for FREE!
Reader Interactions