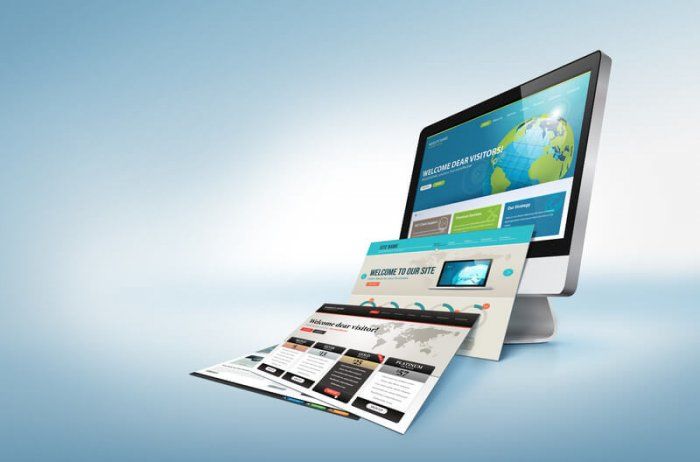 Menus are essential for your website since they are the easiest way to guide your users through the website's various sections and categories without causing them confusion.
The menus that WordPress allows you to create might be fine if you are running a website that isn't that rich with content, and you aren't too concerned about bounce rates. A high bounce rate isn't necessarily a bad thing! It could mean that you're converting sales well, so people are spending less time on your site.
For many folks though, more engagement means return visits, more social shares, and then more conversions via email list, or via one-time promotions on their website. If your strategy for making money from your website involves getting people to stay longer and be more engaged then a mega menu is a great place to start.
Other than engagement, you may just want to advertise ALL of your content within the menu. If it's good content, then don't let it hide behind 3 years of current blog posts. Using a mega menu plugin may be necessary to help your users navigate efficiently through your website!
Creating such menus yourself would need a fairly wide experience with CSS and JavaScript, or you'd be stuck with a basic, but massive default WordPress menu. Even worse, you may have an gigantic sidebar with tons of unattractive links.
By using plugins like the ones we're going to cover in this article, you can create awesome mega menus for your WordPress website without any coding expertise.
Best Mega Menu Plugins
UberMenu
Superfly
Hero Menu
Mega Main Menu
Slick Menu
Sky Mega Menu
LLM
Flexible Mega Menu
WP Mega Menu Pro
1. UberMenu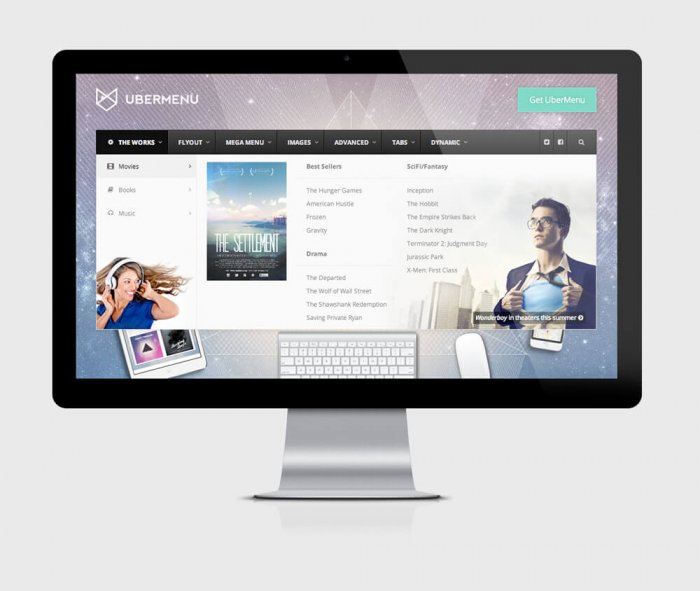 UberMenu is considered by many in the WordPress community to be the number one mega menu plugin thanks to its aesthetic, technical, and user-friendly features. Let's examine them one aspect at a time.
The plugin comes with some alluring layouts that you can apply to your menus, which can include a variety of elements from simple columns and rows to images, icons, maps, and forms, all inside your menu.
That's a great and neat way to gather up the most important parts of your website in one interactive section without having the user roaming around searching for them separately.
The plugin itself comes with an extensive image library that you can use in your menu, but it also allows you to upload your own images freely. Images can be used both as thumbnails to be featured with posts or as backgrounds for the whole menu or sections of it.
Let's say you have a sports category in your menu, you can set an image of a football field as the background for that category to appear whenever someone hovers over it.
The maps and forms are what is really unique here. Not many plugins work with that level of sophistication.
UberMenu allows you to use shortcodes to apply widgets into your menu that include forms for your users to fill with as many fields as you want, as well as maps where you can specify the location for, say, the event or service provider for which they will be filling the form.
Around the content of the menu, you can customize the whole thing as you wish, with a vast range of color and design options. When you add any new content to your website, the plugin's dynamic item generation feature allows it to automatically incorporate that new content into its appropriate subsection inside the menu without you having to add it manually.
It can even create new sections through that same dynamic generator if a certain piece of content does not fit into any of the already-existing categories. With all these features in its arsenal, the fact that it works so smoothly and with that degree of responsiveness and adaptability to various devices and screen sizes is honestly mind-blowing.
2. Superfly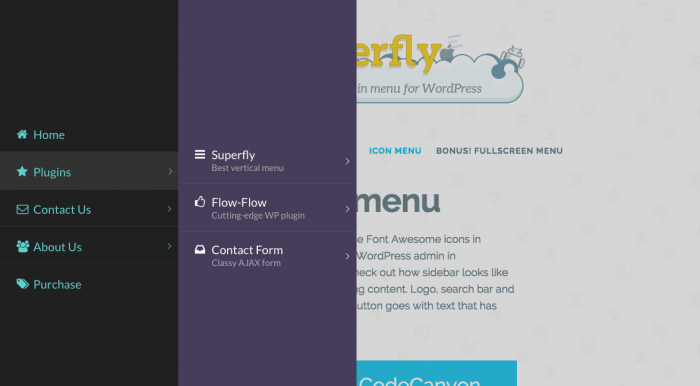 This plugin's advantage is in its level of space efficiency. It enables you to create a menu that includes all of your website's sections and categories without having it spread all over the page in a way that forms a clutter.
These mega menus can be either static or dynamic, and the dynamic menus can have either a push or a slide effect. It doesn't necessarily have to replace your existing menu. Some website operators use it to complement their already existing menus.
You might think this to be a trivial detail, but people usually don't like to click too many times when they're on a website, and thanks to Superfly's mouseover feature, users will only need to click in order to choose the particular item that they want to visit, but all of the navigation can be done through hovering the mouse.
That's not the only way in which this plugin helps in creating menus that end up looking pretty neat and organized.
The layout options all look quite decent, too, and like UberMenu, the plugin allows you to add background images to the menu that can even be made into a dynamic slideshow to be displayed behind the menu items.
You can also incorporate your social sharing buttons in the menu. Superfly's icons are pretty cool, too, and they can be displayed in shiny icon bars that beside their smoothness will definitely grab your users' attention.
Although the menus created by Superfly tend to be narrow and neat when they appear on the side, you can provide your users with the option to activate the fullscreen mode and navigate the menu freely across the entire webpage.
3. Hero Menu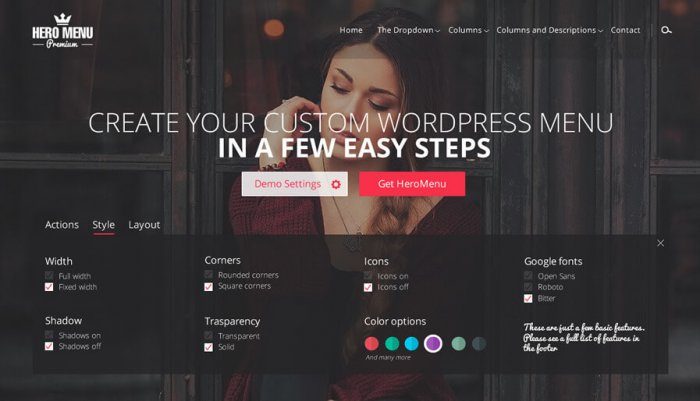 Hero Menu's beauty is not only in the menus it produces. Its admin interface is equally aesthetic and more importantly quite intuitive. You won't face any confusion managing your settings and using the plugin's drag-and-drop structure builder. Determining the menu structure is extremely easy.
You have the elements and features listed in front of you and all you need to do is activate the ones you want to stay and deactivate the rest, and in the end, align them inside the menu as you wish.
After creating the entire structure and determining the sizes of the different elements, you then get to drag the menu items to be added inside the fields. Then comes the design and coloring phase, and this plugin has no shortage of options in that area.
It supports over 60 colors which you can use separately or combine inside your customized menu in order to produce truly eye-catching designs, which would by then be ready for the icons and fonts that the plugin provides you with a wide variety of.
The icon library alone includes over 270 different icons, and in addition to that you can include maps, contact lists, and mini-versions of posts to be featured on the menu.
4. Mega Main Menu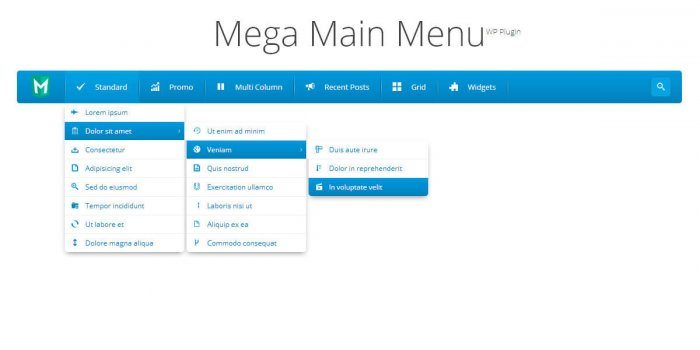 To be completely frank, this plugin is not at the top of its category in terms of shininess, but in terms of practicality, it definitely deserves a spot among the top 5. The amount of options it provides is quite tempting for anyone who can somewhat compromise on design.
For starters, the plugin has over 10 different options for drop-down menus, and the menu can include anything from links, social sharing buttons, text, images, shortcodes or widgets. You can include any color combination with absolute freedom, and the text can be written in any of over 600 different fonts from the Google Fonts library.
The plugin also comes with a directory of more than 1600 vector icons. Last but not least, the plugin has been tested and approved by the WordPress Multilingual (WPML) team, and it can support websites in languages from all over the world.
5. Slick Menu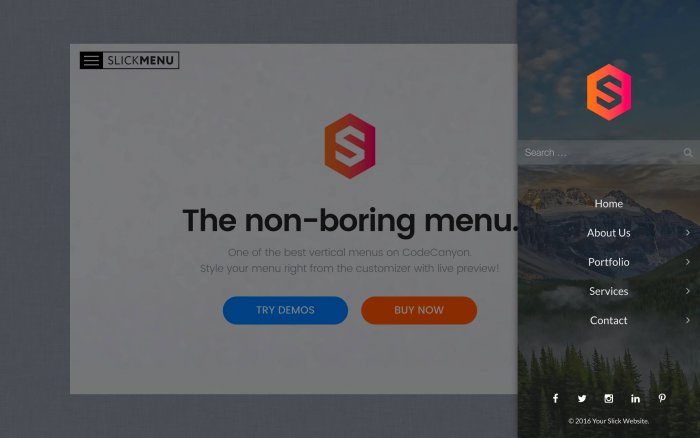 This plugin's live customizer is top-notch. It allows you to build your menu from scratch or on top of one of the templates it provides, and you can see the changes in the front-end in real-time as you apply them inside the menu builder.
That builder enables you to create multi-layered menus where each layer is separately customizable, including the background, overlays, patterns, dimensions, colors, and fonts, each of which has its own wide range of options.
Speaking of which, Slick Menu has a feature that you might not find in any other plugin (definitely not one in that price range).
The plugin allows you to embed Youtube videos to be played in the background of the menu whenever it is opened. Imagine how cool it would be to shoot a video for your brand and add that to your menu background.
Slick Menu comes supports the entire Google Fonts library with all of its font options, alignments, and colors. It also has an extremely entertaining set of animation options that will impress anyone who visits your website.
These include 14 3D appearance animations, 2 slide animations (covering and overlapping), and around 45 animation options to be applied to the menu items.
Menus can be polished even further using the plugin's blur, brightness, contrast, and sepia filters. The icon library is actually a mash-up of various libraries that include Dashicons, Elusive, Font Awesome, Genericons, and a number of other icon sets that you can combine elements of in your menu.
If you're a developer or happen to have someone on your team who knows how to code, the plugin's developer API can allow you to add even more options with a higher degree of flexibility.
6. Sky Mega Menu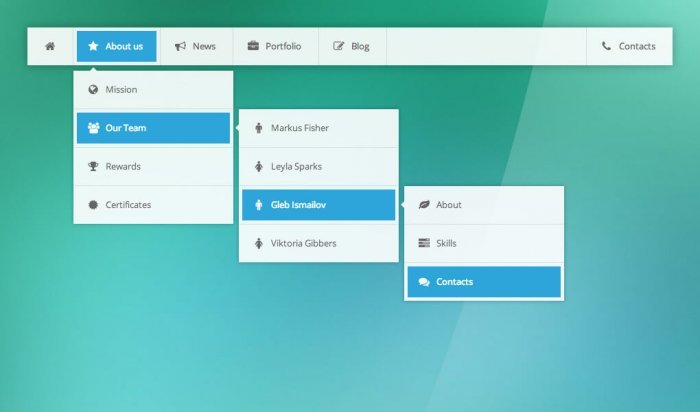 Given the price it is offered for, Sky Mega Menu is a relatively well-performing plugin that provides a fair degree of flexibility at an affordable price. You can use Sky Mega to place menus anywhere on your website.
It is extremely flexible with positioning, and it is even more so with the number of levels or layers you can include in a single menu, each of which can be customized to fit your taste and needs. The plugin supports all of the animations included in the CSS3 framework, and with that, you have 9 different color schemes to choose from.
Moreover, the plugin includes over 350 vector icons and more than 30 templates to use as a base when you're designing your menu, although these can be flexibly tweaked to reach whatever state you want for them. These only provide guidelines in case you don't know where to start with your design.
All of these features are easily adaptable to fit various devices, and the visuals are all retina-ready, meaning they are optimized to appear in the best quality that can come out of any given screen.
7. LLM

It's always comforting to find a plugin presented with that level of transparency. When you open the LLM website you will find 4 rating bars that show the plugin's quality in different criteria (90% in design, 85% in programming, etc.)
Seeing such numbers tell you that the team behind the plugin are allowing its users to share their experience and are not giving themselves more credit than they deserve. As a free plugin, LLM can actually compete with some of the priciest plugins on the list.
LLM has some magnificent design options, and the layout options include both horizontal and vertical layouts. You are unlimited in terms of styling options, and the interface makes it extremely easy for anyone to make the most out of the styling features provided by the plugin.
It also includes bootstrap features. The real power of this plugin manifests itself when the menus produced by LLM are viewed on touch screens or mobiles in general.
8. Flexible Mega Menu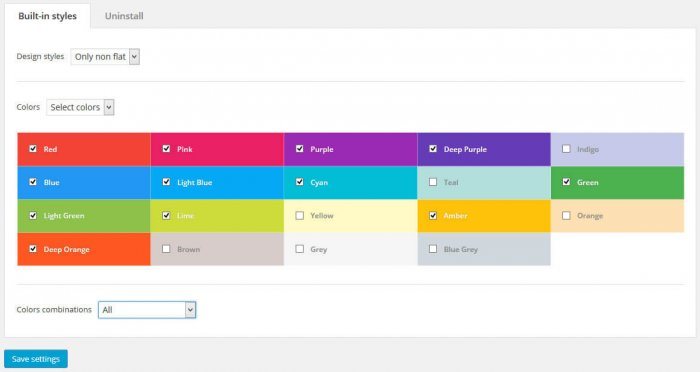 As obvious in its name, this plugin really is flexible in every way. Its interface does not require any prior experience because it is all designed to be pretty intuitive for the website operator using it. Through this plugin, you can create menus in any shape or form, and include various elements from text to widgets, images, etc.
It also has a fairly wide range of styling options that fit perfectly into WordPress themes in general, and the plugin itself is compatible with the WordPress Customizer.
Flexible Mega Menu supports translation, but you will have to do it yourself and then upload the translation file through the plugin. You also have the capability with this plugin to create multiple menus and embed them into a single website or webpage.
9. WP Mega Menu Pro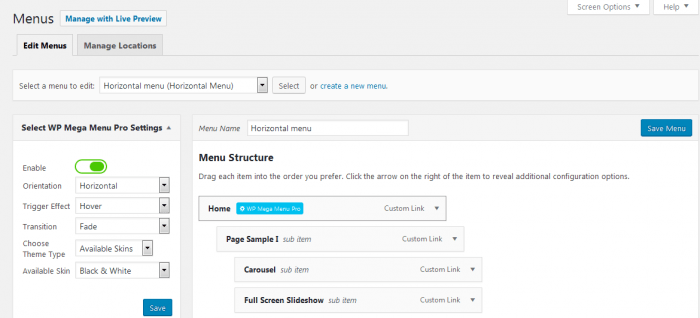 Since we mentioned WordPress compatibility, this plugin is perhaps the most WP-friendly on this list. Unfortunately, it does not operate from inside the WordPress dashboard, but it does fit smoothly into its themes.
The plugin comes with 14 ready-made design skins to choose from, but if you're feeling a bit creative you can use its drag-and-drop builder to create your own.
You should definitely consider these templates, though, because some of them are pretty appealing and you will probably find something in there that you will feel might fit your website's general theme since the color combinations are quite diverse.
The menu items in this plugin are practically treated like widgets that you can drag and drop into the menu structure and then alter their dimensions according to your taste.
The plugin allows over 100 customization options that do not require you to write even one line of code, in addition to over 400 icon options. The styling is done through a section in the settings, so that won't even require the effort of applying them through the menu builder.
You only need to activate/deactivate certain settings. If you run a blog, this plugin might be your perfect choice since it allows you to incorporate thumbnails with the menu items, along with details like author's name, publishing date, and even the number of comments that were made on the post.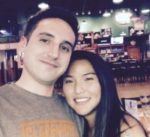 Nathaniell
What's up ladies and dudes! Great to finally meet you, and I hope you enjoyed this post. My name is Nathaniell and I'm the owner of One More Cup of Coffee. I started my first online business in 2010 promoting computer software and now I help newbies start their own businesses. Sign up for my #1 recommended training course and learn how to start your business for FREE!
Reader Interactions