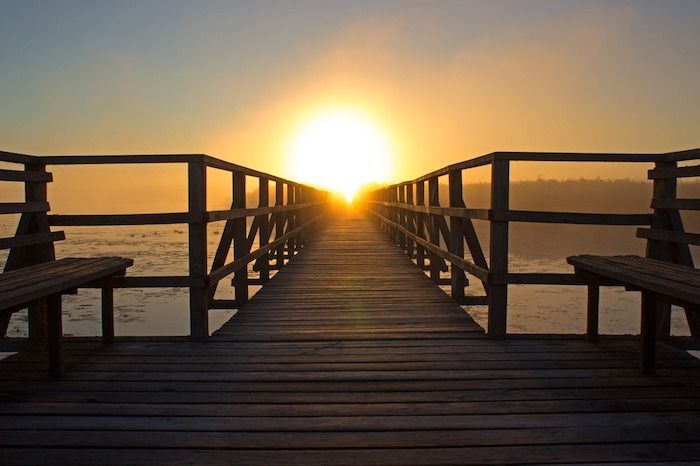 Images are necessary in order for you to turn your website into an eye-catching platform, and in many cases, you will find it necessary to use images in the demonstration of something or the showcasing of your products. That is not to speak of photographers, who cannot even stand a chance at creating a proper website without displaying high-resolution images.
Unfortunately, though, with the beauty of high resolution comes the cost of excessive size along with the slowdowns to your website that can result from it. A heavy website has many disadvantages, most important among which is the fact that both search engines and users simply do not like a slow website.
Loading speed is among the most important criteria for search engines in order to index a website and place it high in its ranks. Users, on the other hand, tend to visit a website way more frequently if they do not have to wait for whole minutes every time they try to load one of its pages. Also, conversion rates tend to hike when the website is fast, which means that subscriptions and purchases can also increase.
Fortunately, however, is plenty of image optimization software that can take some weight and size off your images without killing their quality, which means that you would be able to capture the same attention from your users while enabling them to navigate more lightly through your website.
Instead of looking for the right software, though, you can simply find yourself a proper plugin to do the job. Here are 5 of the best image optimization plugins out there.
Best Image Optimization Plugins
Smush
EWWW
ShortPixel
Optimus
Imagify
1. Smush
Price: Free – Premium ($49/month)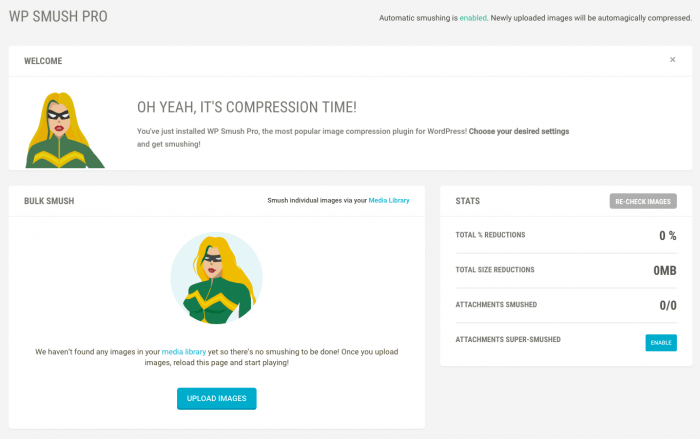 Smush is one of the top image optimization plugins that were made for WordPress. You can rely on it completely in handling your website's images with regards to resizing, compression, and restoration. There are multiple compression options here.
First is the Bulk Smush option, which compresses existing images in a way that can boost your websites speed. It does so by squeezing the bytes out of your images so that there isn't any loss in the content, yet the image would be in its lightest form possible. If you can manage some slight losses, you can use the Super Smush option which compresses images twice as much as the Lossless Smush using the plugin's intelligent multi-pass compression feature.
The Smush features can be automated so that any image would undergo the compression as soon as it is uploaded to the website. That way you can guarantee optimum speed from the very outset. You can even set maximum dimensions for images and the plugin would optimize them to that size by default whenever you upload one.
The compression and resizing do not really compromise much on the quality of the images, seeing as how Smush integrates with NextGEN Gallery and WP Retina 2x and therefore can display high-quality images at their smallest possible sizes. In all cases, the plugin would store the original image in order to display it whenever the full-quality version is asked for.
Smush does not even limit you to the images stored in your WordPress media library, but rather enables you to set other directories for optimization. By integrating Smush with WP Offload S3 (an Amazon S3 plugin), you can also optimize your Amazon S3 cloud-based media directory.
Finally, photographers can choose to keep the EXIF data attached to the images even after the optimization process. All of these features combined can double the speed of your website, which explains why the plugin has been downloaded more than 21 million times and has over two million active installs.
2. EWWW
Price: Free – Monthly API Plan (99¢+) – Prepaid API Bundles ($9) – ExtractDN + API bundle ($9/month)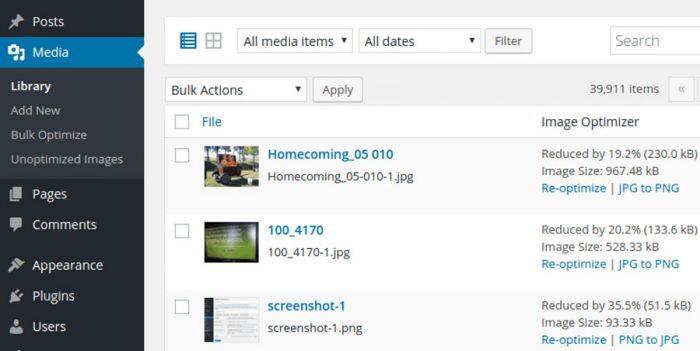 This plugin offers several features that can make your website substantially lighter without the images losing their quality. The regular compression is actually pixel-perfect, but even the high compression option is virtually lossless.
Both levels of compression are carried out using top-notch tools and rendering capabilities. The compression is not limited to the newly-uploaded images or even the ones that are in your WordPress media library but can also be made to include the images that are already on the website.
The background optimization works automatically, and you have the option to add parallel optimization. What you end up with is the optimum format for each particular image's position and function in the lightest state possible without losing any of your images' quality. If you activate the automatic resizing feature, you would even have them displayed in the proper size.
Safety is a priority here, and so all of the operations are secured with SSL encryption. The plugin also provides free image backup for 30 days where it automatically stores the original images. EWWW is integrated with several plugins, especially gallery plugins, and so if your website is displaying images via FooGallery, NextGEN, Nextcellent, or Grand Flash Album Gallery, all of that content will be automatically optimized.
Also, if you're using BuddyPress, Meta Slider, WP Symposium Pro, or bbPress, all of the related images will be optimized as well, including the avatars/profile images. Last but not least, there is constant customer support for this plugin, but the premium API users are given priority in this area.
You might consider the premium API since it provides some impressive features, including cloud-based compression, plus you will not be charged for the months where you do not use the plugin.
P.S. If you're going to use any of the API plans, you should know that the prices stated above are for the purchase of the plugin itself. Afterward, each image is optimized for a fee of $0.003.
3. ShortPixel
Price: Free – Short ($4.99) – Large ($9.99) – XXL ($29.99)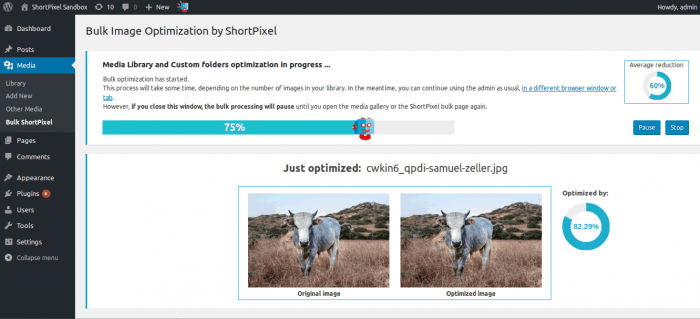 ShortPixel doesn't only work with images, but can even apply the same optimization process to PDF files. The best thing about the plugin is that you only need to concern yourself with it at the time of the installation.
You just download it, install it on the website, and configure the resizing dimensions and optimization options. With a single click, all of your website's already-existing images will be optimized and resized accordingly, and images or PDF files that are uploaded from that point on will undergo the same degree of optimization.
The images can be inside your WordPress media library, as well as on shared, cloud-based, Virtual Private Server (VPS), and dedicated web hosting servers. Also, images that are uploaded via NexGEN or Modula can be similarly optimized.
The image optimization covers JPG, PNG, GIF, and WebP images. There is a "glossy compression" feature for JPEG files, too, which is an algorithm that conducts high-quality lossy optimization. This one is specially targeted at photographers. There are also lossless compression options, and although they leave the images more sizable, they would still be way lighter than in their original form.
ShortPixel has an image compression text that will help you determine which of these options is most suitable for your images. Thumbnails can also be optimized, and you can exclude individual thumbnails from the optimization.
With these features, you'll find yourself with better PageSpeed Insights and GTmetrix results, and consequently better rankings on Google's search engine. More importantly, lighter websites tend to have higher conversion rates and numbers of visitors.
These are the amounts of images that each package will allow you per month:
Free: 100 images/ month
Short: 5,000 images/month
Large: 12,000 images/month
XXL: 55,000 images/month
4. Optimus
Price: Optimus (Free) – Optimus HQ ($29/year) – Optimus HQ PRO ($149/year)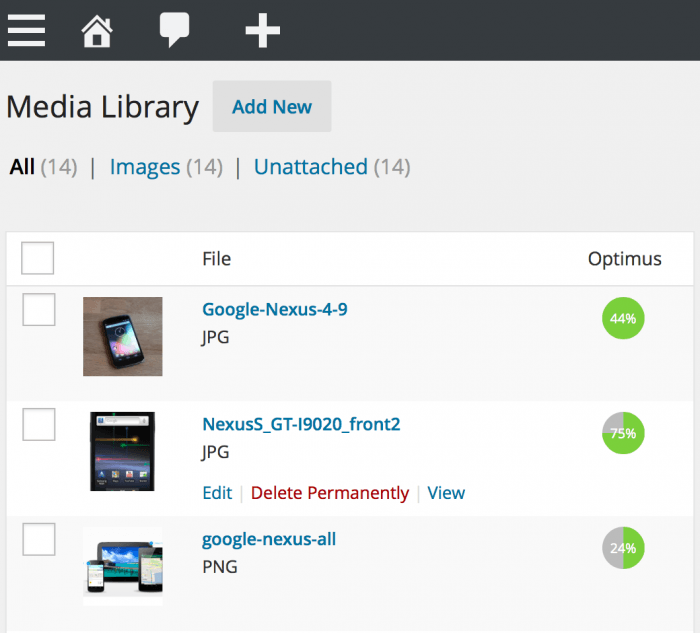 Optimus was developed by KeyCDN, one of the world's top content delivery networks. There are more than 50,000 websites using Optimus for their image optimization. Here's how it works after you install the plugin.
When uploading an image to your website, the image will be sent simultaneously to the Optimus server, and there it will be processed and then sent back after the optimization is complete. The optimized version of the image is then automatically saved in the media library. Each image appears inside the library with the optimization percentage right next to it. Images can be optimized up to 70% of their original size depending on the format.
What's most important is that Optimus optimizes the images without any loss in quality. That's because it focuses on the elements that add any unnecessary weight to the images, like some of the data that is attached to the images which most websites would have no use for unless they are related to photography.
The plugin still gives you the option to retain some of this data, such as the author and copyright information, as well as the IPTC and EXIF metadata. The optimization levels will be lower, however, if you do so.
The plugin also gives you the option to disable automatic optimization whenever you're uploading new images. Among the image formats that you can choose for the optimized version is WebP, which fares best with Google's search engine. It's worth noting that Optimus is optimized for the WordPress mobile app, which means that even the images that you upload from your phone will go through the compression process.
Last but not least, Optimus supports WooCommerce, and so you can have the product images on your online store compressed for higher speed. That's a guaranteed surge in your sales and conversion rates, in addition to the search engine rankings.
5. Imagify
Price: Lite ($4.99/month) – Basic ($8.99/month) – Standard ($19.99) – Plus ($39.99/month) – Enterprise ($69.99/month)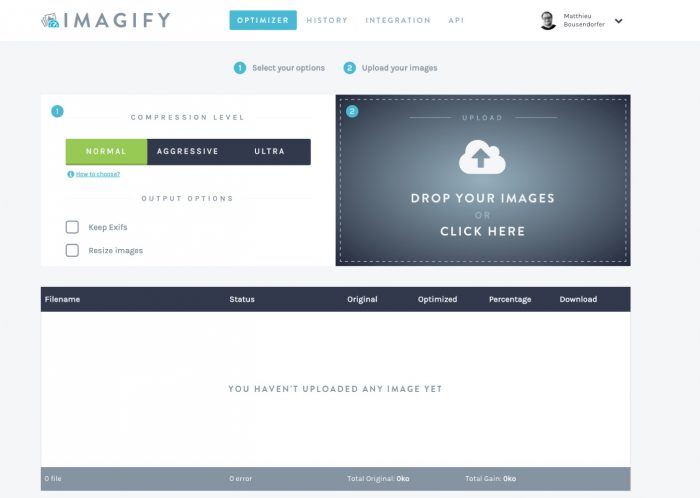 This plugin is Imagify's special gift for WordPress websites. Imagify is among the most robust image optimization software. Using the WordPress plugin, you'll be able to set the levels of compression and dimensions that you desire and just automate the whole process and let the plugin handle it.
There's nothing to worry about regarding the loss of certain images since the plugin allows you to compress and restore images to their original form back and forth very easily. That way you can let Imagify automatically optimize your images, and then you can restore the original versions for certain ones.
You won't need to do that very frequently, though, seeing as how the loss in quality after the compression is done is virtually unnoticeable, especially since you can adjust the optimization level however you want, and so you can choose a moderate level in order to enjoy the same quality and at the same time trim the images down a little bit.
There are progress bars that will let you see the differences between the original images and their optimized versions which will help you to better estimate the right levels of optimization for each type of image. There are normal, aggressive, and ultimate optimization levels. Even the images that are generated via WP retina x2 can be optimized to a fair level without losing any part of their quality.
Here are the amounts of data that each of the above packages will allow you to optimize:
Lite: 1 GB/month (approx. 10,000 images) + $5/additional GB
Basic: 2 GB/month (approx. 20,000 images) + $4/additional GB
Standard: 5 GB/month (approx. 50,000 images) + $3/additional GB
Plus: 15 GB/month (approx. 150,000 images) + $2/additional GB
Enterprise: 50 GB/month (approx. 500,000 images) + $1/additional GB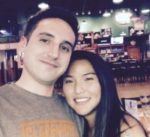 Nathaniell
What's up ladies and dudes! Great to finally meet you, and I hope you enjoyed this post. My name is Nathaniell and I'm the owner of One More Cup of Coffee. I started my first online business in 2010 promoting computer software and now I help newbies start their own businesses. Sign up for my #1 recommended training course and learn how to start your business for FREE!
Reader Interactions