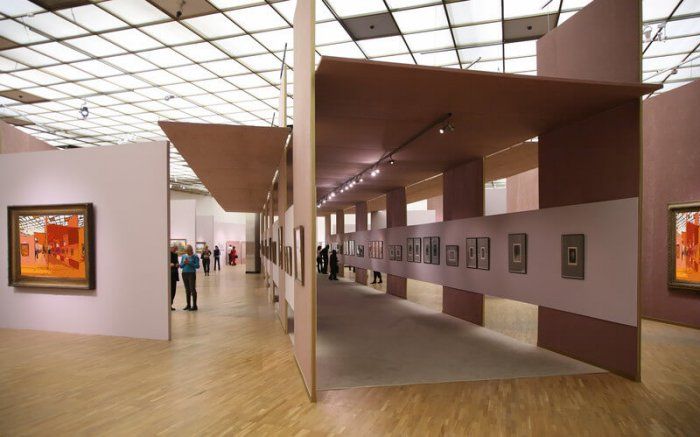 If you sell products that need vivid visual representation for your customers to be intrigued, then you need to start considering your gallery plugin options. This could be the obvious example of photos and prints, but a gallery plugin could also work for showing high quality images of products.
What do WordPress gallery plugins do? They basically help you form or choose a layout for your image display, structure your presentation, and make the show a bit dynamic in order to interest your users. Copy/pasting images onto a blog page absolutely works for the basic blogger, but if you want to take your business to the next level, gallery plugins can help you do that for cheap.
A lot of photographers use one of these plugins or another in promoting their work. You can even be a regular blogger and these plugins would serve your image collection which with some of the plugins can be brought together from various sources on the internet.
Travel blogging is an example of a niche website that's not based around selling products or even being a professional photographer, but could still benefit from from a plugin like the ones below.
See if one of these top 10 WordPress gallery plugins I found would fit with your sense of aesthetic and online business plan!
Best Gallery Plugins
Envira
Upfront
Fast Gallery
Awesome Gallery
Expandable Image Gallery
Foo Gallery
Photo Gallery by Supsystic
nanoGallery
Modula
Unite Gallery
1. Envira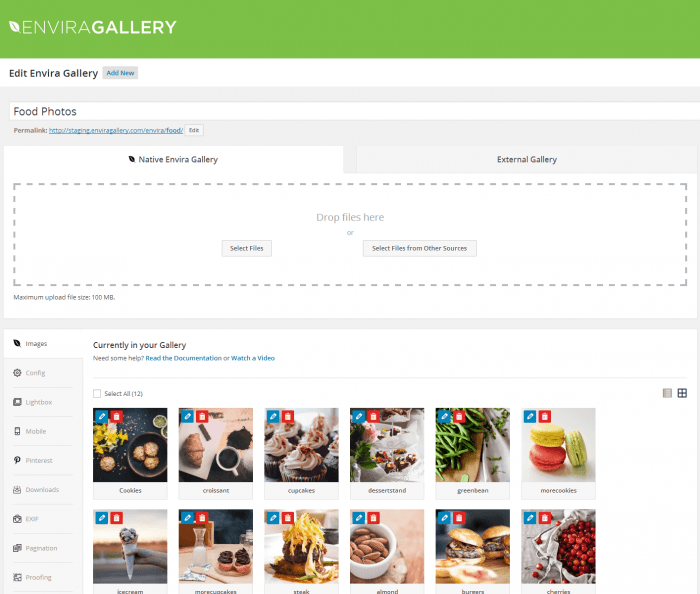 We have to mention Envira at the top of this list. Out of all of the other plugins, it's the most capable of supporting an online gallery while maintaining a high-quality level hand in hand with speed and reliable performance.
Without having to code anything in your gallery, you can directly set it up through Envira's drag-and-drop builder using an interface that can't possibly cause any confusion whatsoever. It's designed precisely to avoid confusions even if being used by a complete amateur. That is not to say that it's not feature-rich.
I already mentioned that it allows your website to operate at a high speed without having to compromise on the quality of your pictures. You probably know how heavy a high-quality picture can cause a website to be if not optimized properly.
Envira provides the ultimate level of optimization to your image galleries, thus allowing them to preserve their quality without resulting in slowdowns. Maintaining a high speed for your website can boost your performance with regards to both conversion and SEO.
Moreover, Envira provides you with various tools to promote your brand, from social sharing options to watermarking, while still allowing you to protect your content using password permissions and various other tools. If you're a commerce brand, meaning that you sell products through your website, you can easily integrate WooCommerce with Envira in order to link your image gallery directly to the purchase options.
With the dynamic galleries, you'll be able to create using Envira, your product display can be totally transformed. That's not just for your online users to benefit from. The plugin helps you create slideshows as well, which you can then use for your business presentations or sales pitches.
2. Upfront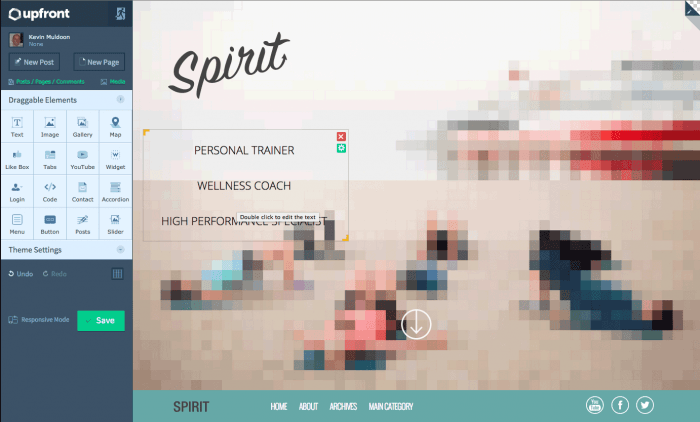 The visual sophistication of Upfront's user interface and the galleries you can build with it truly stands out from the list as well.
The best thing about Upfront's drag-and-drop builder is its instantaneousness, by which it allows you to watch the changes take effect as you apply them in real-time through a front-end mode that shows you the designs as any user would see them on his/her side.
Through the plugin, you would have access to countless themes and ready-made templates that you can use as your base and build on from there. They are open for adjustments not just in their core display elements like the page's boxes, widgets, and sliders, but even down to buttons and whatever other trivial elements.
Although WordPress is yet to be topped by any CMS out there, it still has a certain rigidity to its elements. It's not easy to create a truly dynamic webpage using WordPress. Using Upfront is a good way to step over this obstacle.
The plugin gives you all the tools you might need to add a touch of simple, smooth dynamism that can fire up your website and make it multiple times as attractive as it is right now. You don't even need to change your current theme. WP themes are easily importable into Upfront, and so you can just as easily take your theme and put some life into it.
If you're running an e-commerce project, then you should definitely consider this plugin to polish your brand and give it a substantially more professional look.
The display is top-notch and you can integrate both MarketPress and WooCommerce with Upfront in order to manage the purchases and directly link them to your Upfront-built galleries.
3. Fast Gallery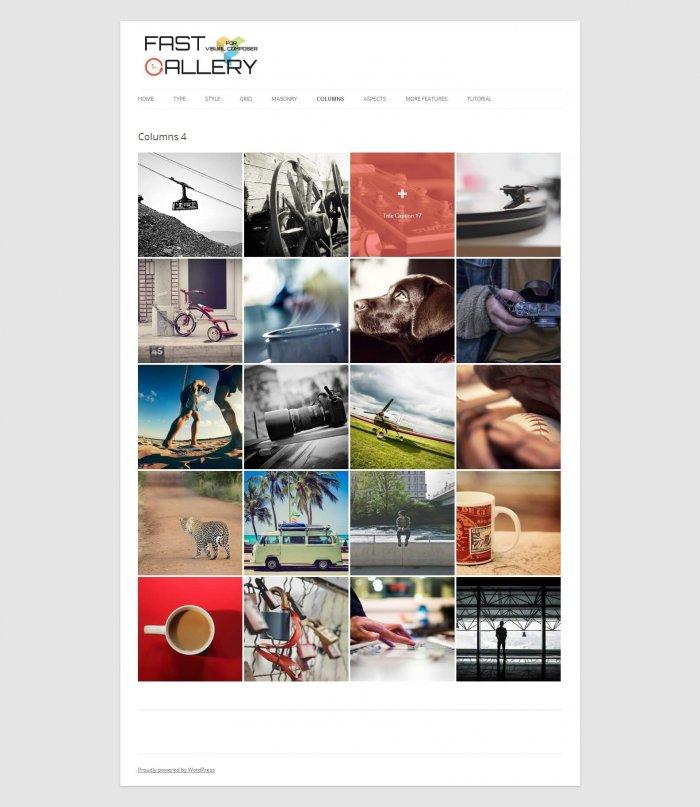 If you don't want to create something that's too fancy, it would be well-advised to go with Fast Gallery. Although it comes with a variety of tools and options, they're not too many as to cause confusion.
You might only need a basic, yet attractive, display for your images, in which case there would be no reason for you to lose yourself in that clutter of tools provided by the more sophisticated plugins. For example, with Fast Gallery, you only get 5 types of galleries and 10 different styles, but they vary enough from one another to make them sufficient in covering a wide range of purposes for a website.
Using Fast Gallery you'll get to play around with these layout options, and when it comes to color, you'll find just as much customizability as you would find with the bigger names. The plugin also comes with video tutorials, so if you can't intuitively create your own galleries right away, you can learn the process step by step with that material.
Finally, the pages designed using Fast Gallery are all fully-responsive and capable to adapt to any screen or device.
4. Awesome Gallery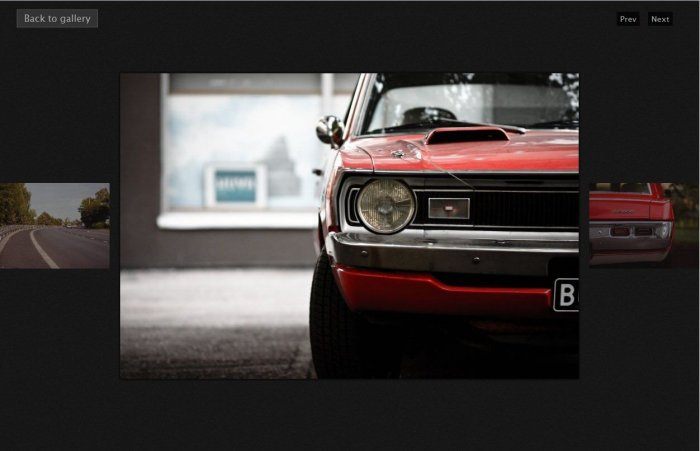 If you're the type who likes to use tools that come with thoroughly detailed manuals and save time by simply following the instructions, Awesome Gallery would probably suit your taste. The admin interface was designed for dummies, and the step-by-step instructions take you through the process without any wasted effort on your part.
The plugin comes with an impressive range of options and features. It provides you with 3 different layout options and 10 style presets, but more importantly, it allows the import of images from up to 7 different sources.
These sources include Instagram, WooCommerce, Flickr, 500px albums, NEXTGEN Gallery, and Facebook. It's a safe and ideally easy way to create some breathtaking high-quality galleries and add them to your website.
5. Expandable Image Gallery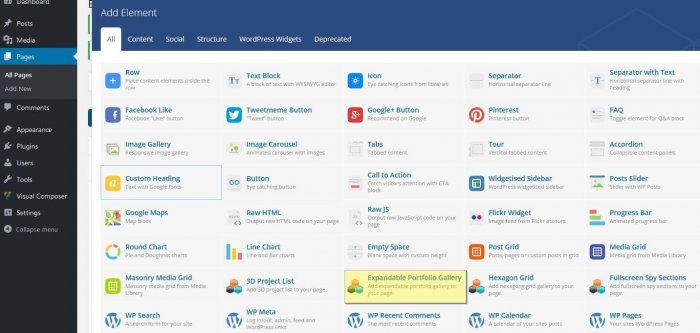 There's something that has to be noted about Expandable. Although it's a top-tier styling application, that's all that is there to it. It's not a plugin to use in creating dynamic display boards with multiple dynamic features and so on.
This plugin is focused on providing an easy user interface that can help you shape and modify your website's CSS stylesheets without having the necessary coding expertise.
It does this simple job with excellence, though. Using that interface you can do everything from structuring to styling while utilizing all the features that CSS3 facilitates. Lately, even, the plugin has received an upgrade that added jQuery to its library that can allow you to create sliders and slideshows that will add some movement to your visual content.
6. Foo Gallery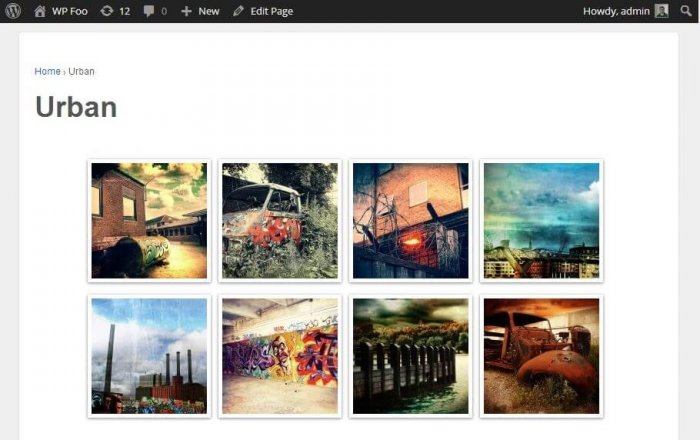 Here's a pretty powerful one. Foo Gallery isn't one of the most popular images and video gallery plugins for no reason. The amount of features it offers is out of proportion with its simplicity and lightness.
Using this plugin, you can make your website extremely well-optimized and easy to load on any browser and any type of device or screen. You can do all of the work through its drag-and-drop builder with its wide variety of templates and tools that you can monitor in real-time as you apply them to your webpage.
All of the plugin's features are equally applicable to galleries and albums whether they consist of a video or audio content or both. There's an excellent extension for the plugin called FooVideo that definitely enhances your video management capabilities.
More important than all of this is the fact the plugin is compatible with PHP 7, making it capable of managing your website's visual content on both the front and the back ends. It's almost always better to have as many functions gathered up and managed via a single platform as possible, and Foo Gallery allows you just that.
7. Photo Gallery by Supsystic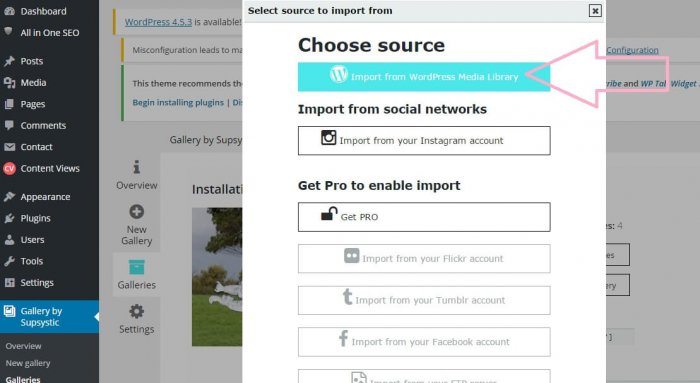 This isn't the first time that we mentioned a plugin that was developed by Supsystic. If you're familiar with the name, then you probably know how their visual display features are always quite adequate. If you want to set up a nice and polished portfolio or an image gallery that can be viewed on any type of screen without using its glow, you don't need to think twice about this plugin.
Supsystic provides you with several layouts and templates to serve each purpose. You can use them to structure and customize your website at will, and then afterward you have a broad list of effects to apply to any page.
These include the Carousel, Polaroid, and Mosaic effects, among others. For the sake of helping you protect your content, the plugin allows you to add watermarks to your images. Finally, the plugin comes with an amazing caption builder that will help you manage the text that will be added to the images.
8. nanoGallery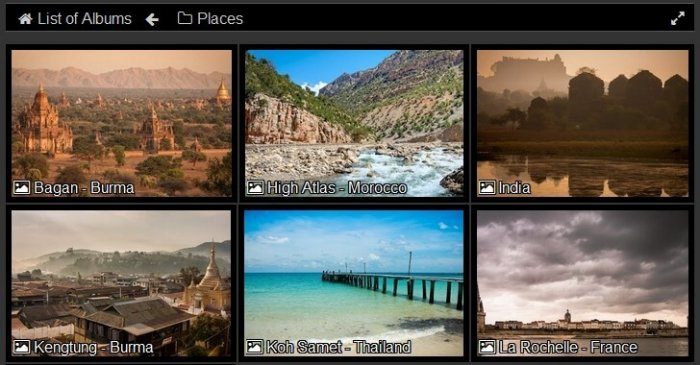 Before getting into its features, you should be warned that nanoGallery is not that concerned with simplicity. It doesn't even have a typical click-based user interface. Think of it as a jQuery library that allows you to combine certain functions to build the gallery you might wish for. You would need to be comfortable with doing some basic-level coding if you want to use nanoGallery.
But as much as it might be difficult to some, it's probably more comprehensive in terms of functionality than most of the other plugins, even the top ones.
Using nanoGallery, you can create fully professional galleries that have the potential of grabbing your users' attention on the spot. You can represent your different galleries or sections of your single gallery using its ultimately compelling thumbnails, presented with a title and a description for each of them. You have three types of layouts to choose from, and which are extremely flexible and open to your adjustments.
The images you present in your gallery can be displayed in full-view through a popup window. Also, the plugin supports the display of self-hosted images that are available directly on your website or images from photo sharing websites like Flickr and Google+.
9. Modula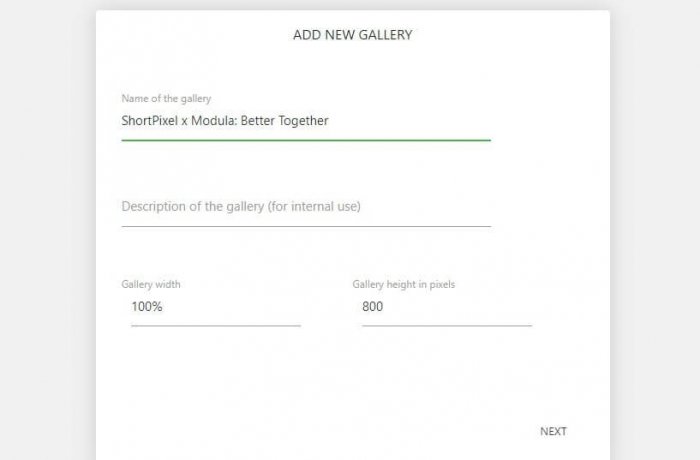 This photo, image, and portfolio gallery plugin is extremely compatible with WordPress. Using this plugin, it could take you a lot less than it would with most of the other plugins to create an alluring gallery on your website.
Modula comes with a collection of filters that can give an entirely different character to your images. If you buy the pro version, you would get 5 lightbox libraries and effects on top of that. The basic version still has over 15 hover effects, though. If these would cover your needs, you can just work with the free version.
There is just one thing that I think is a shortcoming on Modula's part, and that is the 20 images per gallery limit that is in place. Other than that, the plugin is very practical and time-efficient.
10. Unite Gallery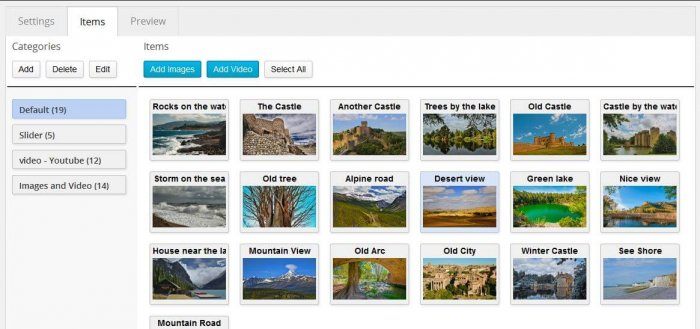 If you want to finish your gallery-building process with ultimate simplicity, Unite Gallery can get you covered. Working with an interface that is identical to the one you are used to with WordPress and which is organized in an extremely intuitive way for any regular WordPress user, you can give your website some flavor using its wide range of design features.
Your options include tile, compact, and grid-based themes, and add effects to them like sliders and carousels. The plugin allows you to alter every element included in each of these themes.
So, they're not exactly templated that you're stuck with as much as outlines that can get you started without having to generate the ideas from scratch. Finally, it's worth noting that like Foo Gallery, Unite Gallery supports video galleries with the same features and effects it provides for image galleries.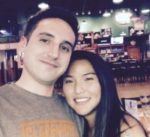 Nathaniell
What's up ladies and dudes! Great to finally meet you, and I hope you enjoyed this post. My name is Nathaniell and I'm the owner of One More Cup of Coffee. I started my first online business in 2010 promoting computer software and now I help newbies start their own businesses. Sign up for my #1 recommended training course and learn how to start your business for FREE!
Reader Interactions