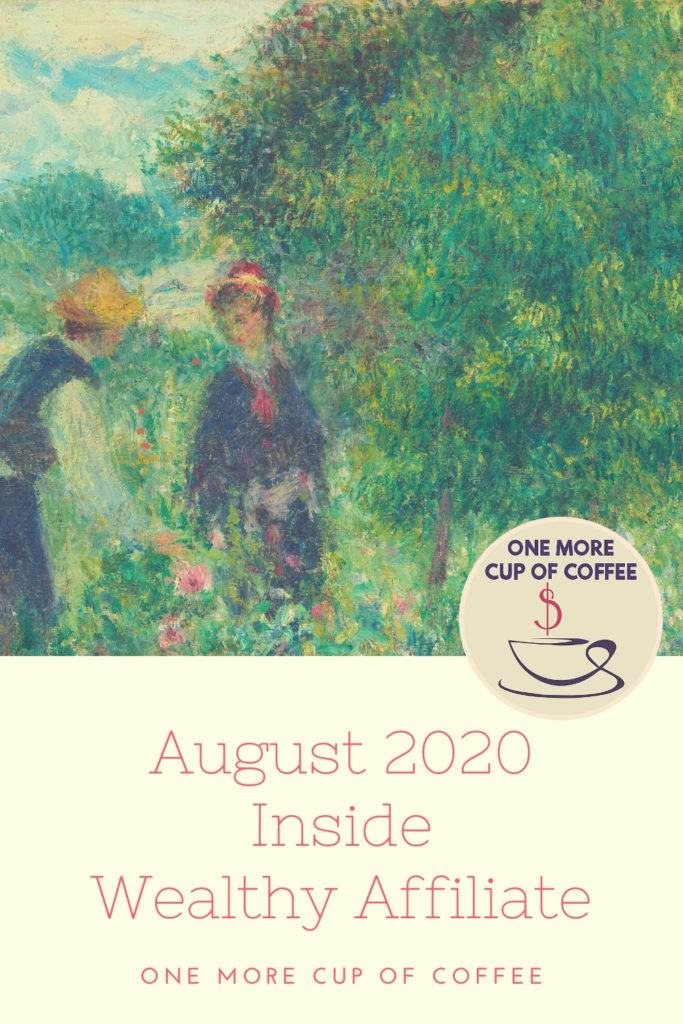 Wealthy Affiliate August 2020 Updates
August is hot in California. Plus we have fires. Plus there's the pandemic. I basically didn't leave my house for the past four weeks. Lucky for me I can order scotch online and now that the smoke from the nearby fires have cleared, I can enjoy a cool night with a bottle, my wife, and the dogs.
There were a TON of great posts from Wealthy Affiliate members this month (see bel0w). So much so, I'll have to pick just a couple of my favorites as usual. Here's the running list so far, which I keep every month so I can remember what to include in these monthly updates. People who are seeing results with Wealthy Affiliate training are growing week after week, month after month!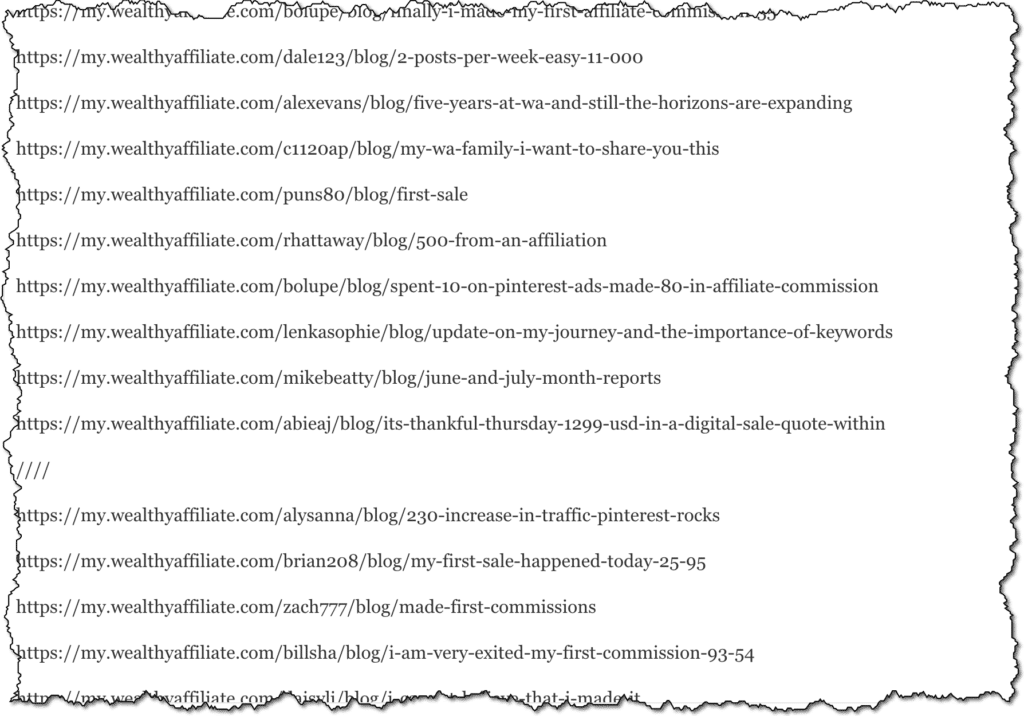 Since I've been locked up, I've been busy of course, and seeing some successes of my own. My YouTube channel is growing. If you aren't subscribed, I recommend you do. I post weekly videos about cool affiliate programs and talk about topics related to my own affiliate businesses and how I run my sites.
I've also been more active on email. I am now sending two weekly updates about what I'm working on and cool videos or articles relate to affiliate marketing. You can sign up here here:
[convertkit form=1526842]
July Webinars
This month the webinars were focused on email marketing and building an email campaign. Don't forget that in July Jay a did a webinar on building landing pages as well, which work great for collecting emails.
Recorded on Aug 7, Email Marketing Core Concepts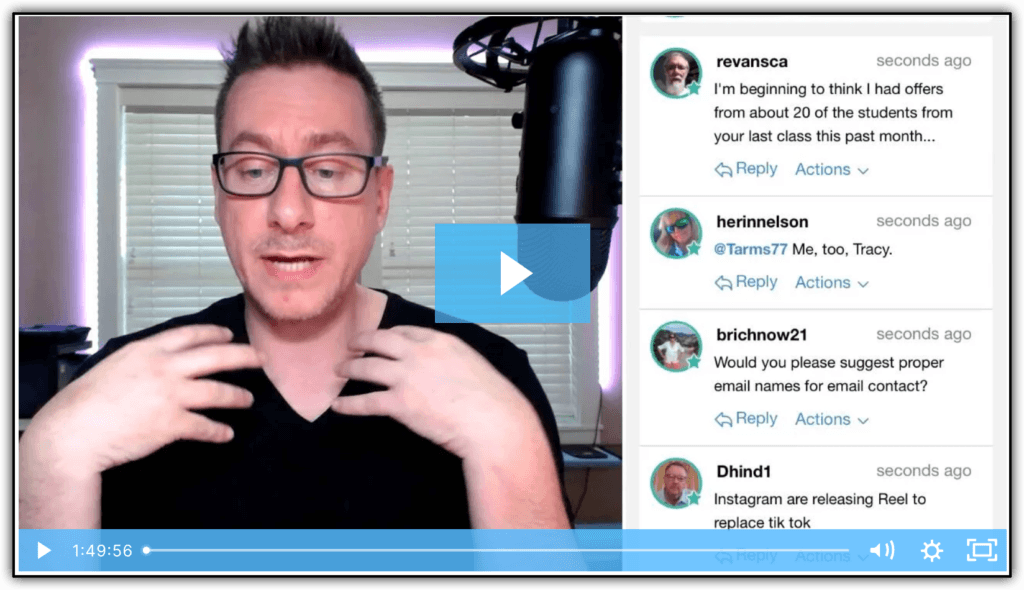 Email marketing is one of those things you hear about over and over and over again. Is it really that powerful? Yes. Is it easy? Not at all. I've had more fails than successes with my email lists over the years, so it's definitely something I need to practice!
However, email marketing is very popular precisely because it's so powerful. Someone is inviting you into their inbox. They want to read what you have say. This is a massive opportunity to build trust and make money by promoting excellent offers to an audience.
It's not the virtual ATM machine like a lot of gurus make it out to be though. It takes works. Learn the basics of how email marketing works in this introductory webinar from Jay!
Recorded on 14, Content Creation for Email Marketing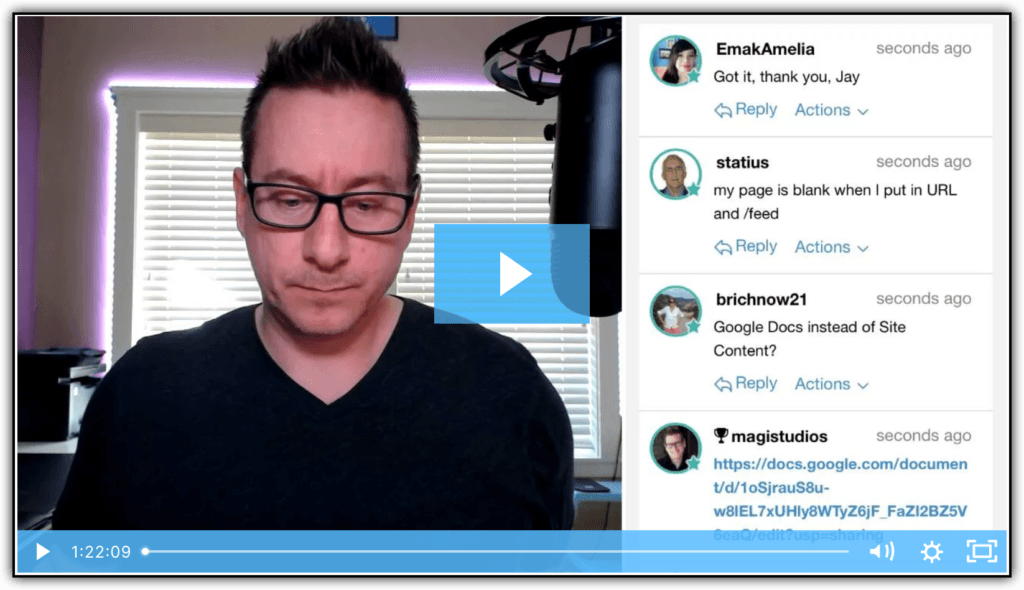 What should you write in your emails? That's what this webinar is all about. There are different types of content you can send out within your email campaigns, including blog content, broadcasts, and campaigns. For example, you can sign up to my affiliate email course and you'll get an email every day or couple of days, which are in a sequence I've laid out. On the other hand, if you joined the form above (on this page), then I'll manually send out two emails per week with more time-relevant content.
Drip fed email sequences are great for evergreen earnings. The same sequence goes out to every person, so if you set it up correctly, it's an awesome source of passive income. Broadcasts are great for one-off promotional offers, or just giving valuable knowledge to your audience.
Recorded on 21, Building Awesome Opt-in Pages That Convert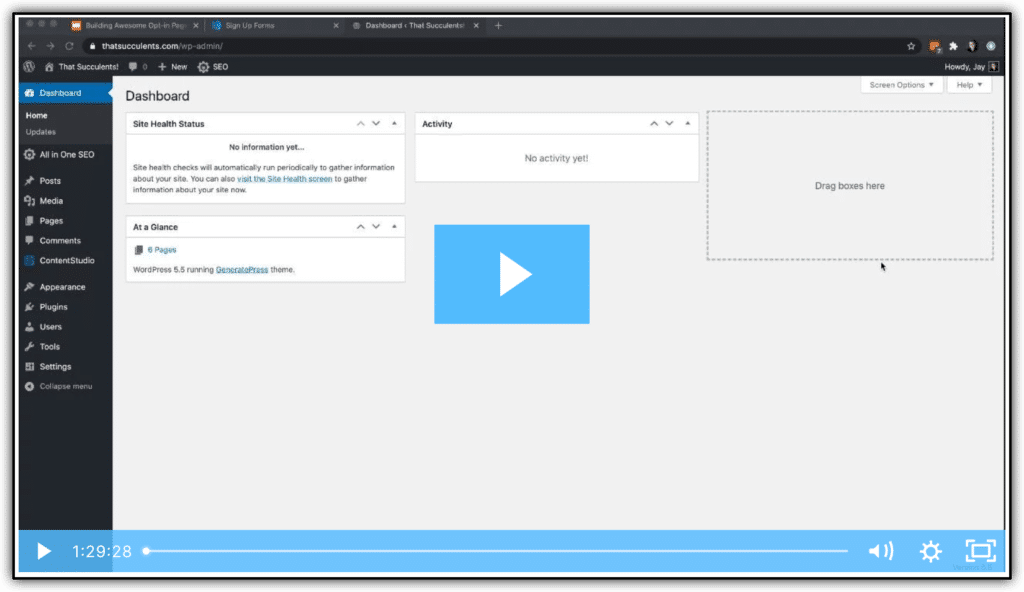 One thing I've learned is that even if your emails are awesome, you still need to be able to convince people to join. You've got to incentive someone to join your email list and start reading! That's done at the landing page level, and in this webinar, Jay's going to show you how to build an awesome landing page in WordPress, as a foundation to your email campaign.
Recorded on 28, Opt-in Strategies for 2020 and Beyond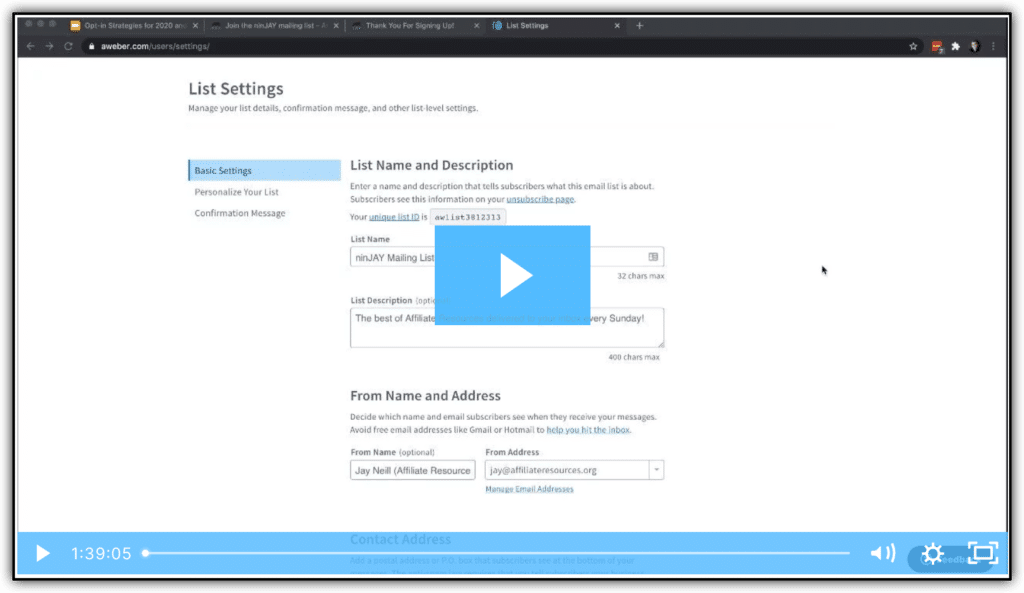 Now that you've got a landing page and an email campaign going, how do you know if it's successful or not? Sales, obviously, but what if you aren't generating sales right away? You have to tweak, test, and try something new.
Jay covers how to track your opt-in successes with a custom success page, which can then be used at a "goal" in Google analytics to help you track visitor activity. Plus, a couple other "ninja" secrets from the master marketer himself.
Top Blog Posts
As I mentioned at the top, there were a ton of Wealthy Affiliate blog posts I wanted to share.
First Sales (Thanks to Wealthy Affiliate Training!)
@Dale123 published an awesome blog post about a concept I repeat a lot here on the blog. Small tasks over time add up. He found a website for sale for $11,000 on Flippa and decided to dig deeper to see what it offered. He discovered that the website was only 1 year old, with 78 posts, and was earning just $313 from Amazon. That's a very doable schedule for anyone to accomplish within a year. It's just two post per week!
@mikebeatty published his June & July reports showcasing his insane traffic increase from 6,000 visitors in February, up to 40,000 visitors in July. WOW. Nice work! Plus, he's got another niche site which is rockin' Pinterest, and he's getting 30,000 visits per month from that single social media network alone. I recently published an article about Pinterest as a search engine which would be worth reading if you are interested in using Pinterest for your own niche site.
Speaking of Pinterest, @Bolupe is starting to make money from Pinterest ads thanks to Wealthy Affiliate training.
Then, how's a $1299 commission sound? Or how about $500?
Lastly, I always like to point out Wealthy Affiliate members who end up making money outside of the affiliate marketing industry. Although Wealthy Affiliate teaches you how to start an affiliate blog, for many people it's just their first step towards some other kind of online career. I've seen a bunch of different ones, but in this case, @DailyLI just landed an audiobook gig. You never know where you'll end up when you start exploring online business opportunities!
My Content For August 2020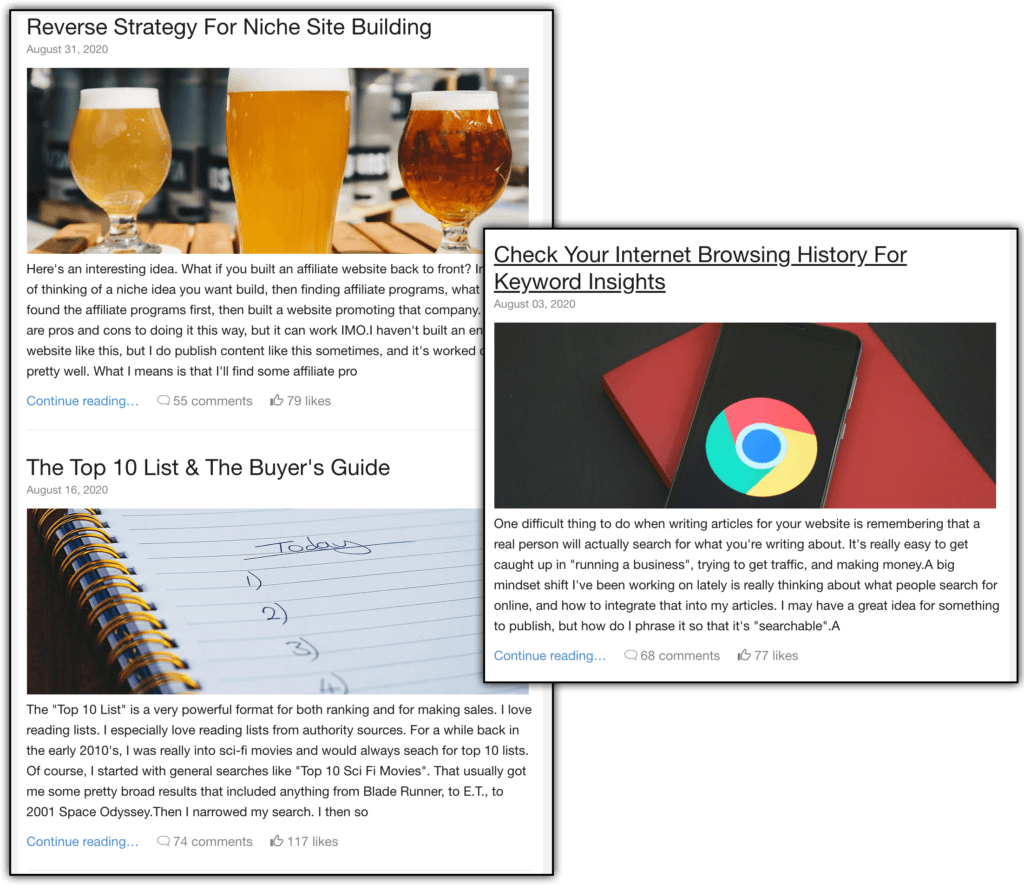 I published a couple articles myself within the community this month, with some random insights that I've been thinking about in August. One was just the idea that you should be analyzing how you, yourself are doing searches online. Oftentimes we think we know what people are searching for, or how they're searching, but what they are actually doing may be counterintuitive. Next time you go to buy something online, think about the process. What did you search for? Where did you search for it? What information did you seek out at first, and what information helped you make the final decision? What did you do just before and after clicking "buy".
Here's the article on the buyer's guide, which is a very powerful way to write "list" style product reviews and still provide massive value to your audience, despite having more than just a few affiliate links on the page. Here's a video on the same topic.
The best post of the month though was definitely my article on the topic of reverse engineering your product reviews. The basic idea is that instead of writing what you want, then finding products to promote, you can find a product you want to promote, then create content specifically to promote that individual product. I did this earlier this year and it didn't work out very well, but I still think it's a good idea lol (full story in the link).
Final Thoughts
I don't know if I'm just becoming a lot better at what I do or if there's a lot happening in the affiliate space, but I feel like a lot happened in the month of August, and things are looking bright for the affiliate marketing industry. There's always a lot to write about, a lot to promote, and there's no cap on what you can earn online.
Affiliate marketing is a growth industry with a bright futures, and Wealthy Affiliate is the best place to learn how to do it!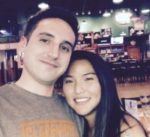 Nathaniell
What's up ladies and dudes! Great to finally meet you, and I hope you enjoyed this post. My name is Nathaniell and I'm the owner of One More Cup of Coffee. I started my first online business in 2010 promoting computer software and now I help newbies start their own businesses. Sign up for my #1 recommended training course and learn how to start your business for FREE!