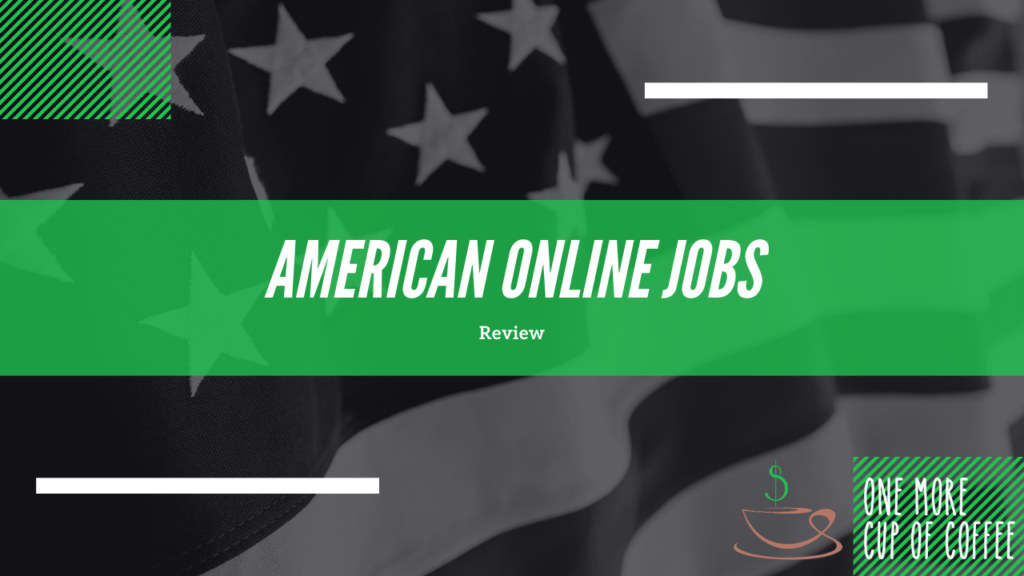 American Online Jobs is a pretty well known website. Well. Pretty infamous if you ask me. I heard about them several years ago, and the news was not good. I decided to check up on them to see if 2020 was going any better.
There have been a couple updates to the site, but nothing that turned the site to towards a positive direction. In fact, just about everything is broken!
American Online Jobs certainly doesn't offer the type of jobs that you might be expecting, and in this review, we're taking an in-depth look at the site, including the sign-up process and the actual approach for earning money they advertise. I also want to see if this website is actually worth using, because you don't want to want to waste your time on a company that isn't going to be profitable for you.

American Online Jobs Review
Getting Started With American Online Jobs: The first thing to mention has to be the way that the American Online Jobs site is set up. There is no page telling you what the company is or what you can expect. Instead, you're simply directed to a set of Pre-Screening Questions.
Wouldn't it make sense to explain what you're signing up for, before you start answering private questions?
The questionnaire just asks generic questions (like 'are you capable of following detailed instructions'). Unfortunately, the form doesn't even work properly, which is a pretty bad sign. In particular, you can only provide one answer, even though there are seven different questions.
The issue with answering doesn't matter anyway, as the survey is just a way to get you through the door. It isn't even a real questionnaire at all. Once upon a time, when you would 'submit' your answers, you were taken to this site:

It was pretty much the same setup as onlineflexjob.com, and you can start to see a patter here. These websites are created en masse and just spammed around. Who is doing the spamming? Stay tuned, because you're about to find out!
In 2020 however, the "submit" button seems to be broken. It just refreshes the page over and over again. The only option is to click the "Go to step 2" button.
I've reviewed a similar site in the past (FlexJobs), which had some good stuff about it, but wasn't something I would pursue long term. I'm more interested in earning income online instead of earning a few dollars with cheesy survey sites.
In step 2, American Jobs Online suggests joining up to 8 other companies that are looking for 'referral agents', like the ones below. They probably look familiar, as they're simply survey sites. In fact, I've reviewed My Survey and Opinion Outpost in the past.

Last year, I was able to click these links and actually sign up to survey companies to make a couple pennies answering questions. Not my preferred way to make money, but at least it worked! These days, the page just refreshes. I'm starting to think that American Online Jobs has been abandoned!
What's Actually Inside The Training Offered By American Online Jobs?
The training you enroll in for American Online Jobs has two different parts. One is to complete the surveys and focus groups from the programs that users initially joined. The other is "referral marketing" which is where you are earning a commission by promoting things through your links. It's a legit way to make money, but it's not a job. Wait. Wasn't this site promoted as a source of online jobs?
This type of work doesn't pay by the hour. You get paid a commission for each sale you make. That means you could work for ten hours and make nothing at all!
You might like this type of work, but in my opinion, they don't give you proper training on how to actually be successful. The majority of what they suggest is just to post your link on Facebook, social media, and forums. There is a training area you can use, but what they teach you isn't very ethical in my opinion.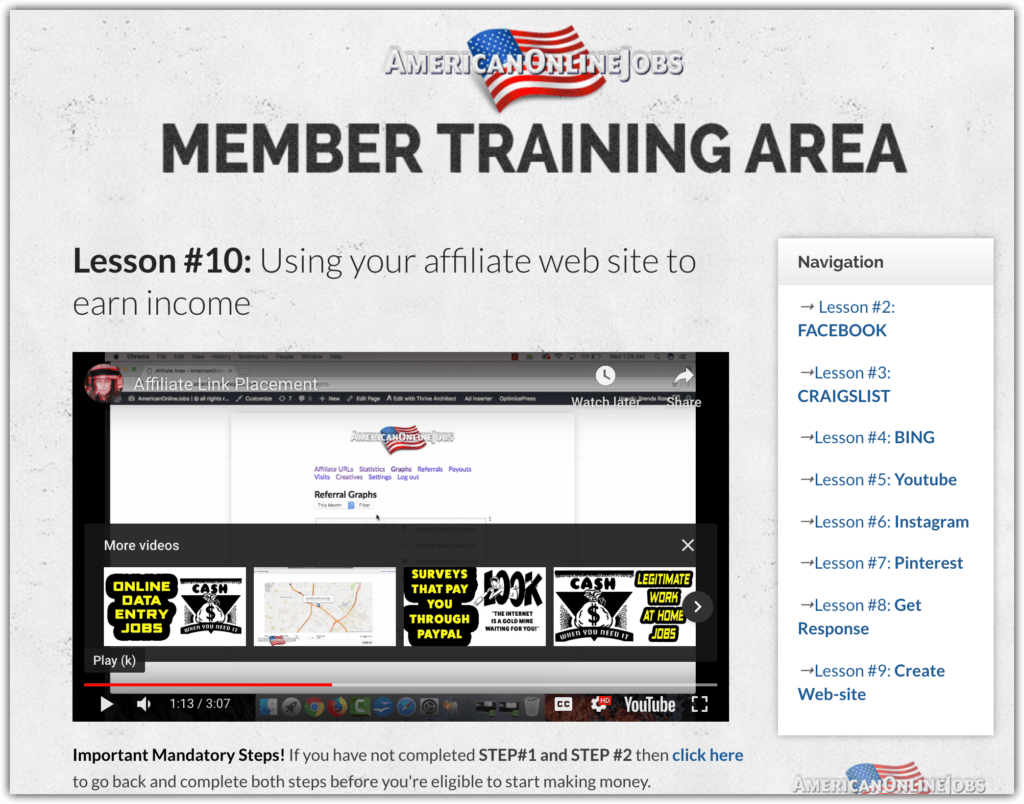 The training basically tells you how to spam websites.
For example, their Facebook training tells you how to post your affiliate links into Facebook groups. This commenter on their YouTube channel said exactly what I was thinking!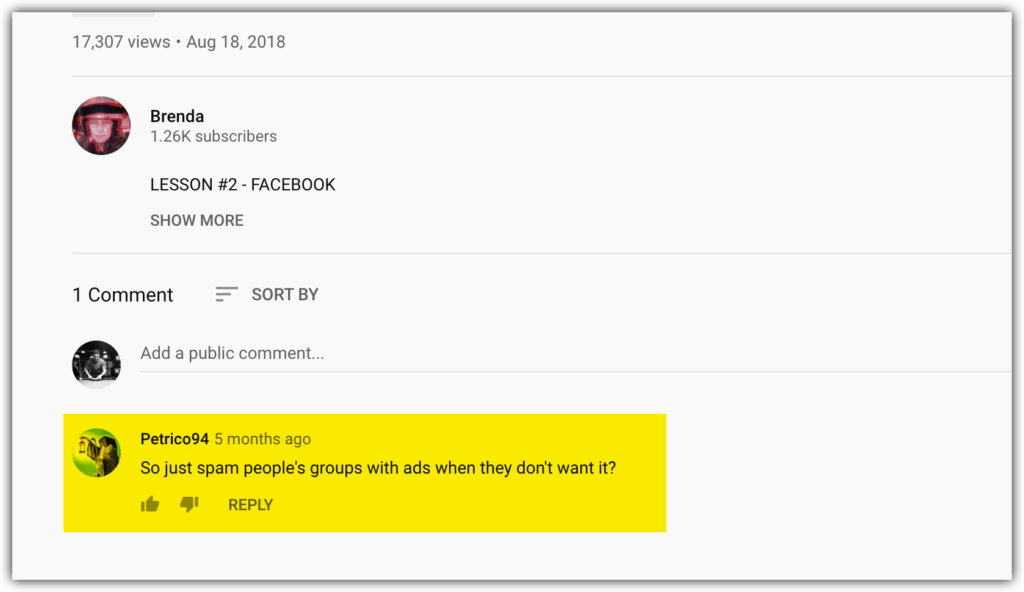 Other training modules are similar. For example, Craigstlist is very clear that you are not supposed to post "work from home opportunities" in the jobs section. Oops. That's exactly what these videos are trying to teach you!
The training is also very simplistic and it focuses on promoting survey sites, along with promoting American Online Jobs itself. Instead of training you how to use YouTube, they send you to a $15 course on Udemy. Their instagram training is literally three paragraphs long.
You also get a 'free website', which is nothing special. It's actually just a profile with American Jobs Online, and a link to that profile. Honestly, the whole thing is frustrating for me, so I would imagine that if you were serious about looking for online jobs, you'd be even more frustrated!
Can You Really Earn With Surveys & Side Hustles Online?
There are many other copycat websites similar to American Online Jobs. In fact, most reviewers listed in Google search results are pretty clear that this company is very scammy. I wouldn't be surprised if the owners of AOJ abandoned their website to create a similar system with a different name by now.
So why are people still searching for American Online Jobs (the brand)? Probably because years of affiliates have been spamming affiliate links for this company in Facebook groups, YouTube channels, etc. Those links are still up even though the website is pretty much worthless.
But can you really make money with some of the systems they promote? Should you try to just find better websites to work with?
Making Money Through Surveys
We skipped past the other ways to earn with this program, so let's talk about them now. As part of the signup process, you join various survey sites and Online Flex Job. You're meant to remain active in these, while also doing the referral marketing side of things.
Surveys are legitimate ways to earn, although some sites are better than others. You basically earn a little bit of money each time you qualify for a survey and complete it. Sites often have multiple ways to cash out, including gift cards and PayPal. You'll just need to hit a minimum payment level first. $20 is a common figure, although this can vary as well.
The problem with these sites is that you're never earning very much. The process is also pretty slow. You'll often spend more time waiting and applying for surveys than doing them. When you calculate it out, you often earn a couple of dollars per hour – at best.
That might be fine if you were desperate for money and had a decent amount of time to spare. It's definitely not a way to earn legitimate income. You might find yourself waiting days, or longer, just to get some new surveys. When you do, you might only qualify for one or two of them (or none at all).
Making Money With Microtasks
The same is true for microtasks, focus groups, and other random things which might pay. Finding tasks that you're qualified for and getting accepted is often challenging. Expect to spend a lot of time waiting and hunting. You'll probably get rejected more often than not too.
The main way around that issue is to join multiple sites. Of course, your balance will be different for each of these and it will probably take months before you can cash out even once.
For people who want a little bit of money every so often and don't mind spending the time, a survey site or two can be entertaining. If you're going to do this, look for sites that get good reviews from users, like Swagbucks.
Online Flex Job isn't much better. From what I can gather in this ridiculous website, is that the approach will be similar to envelope stuffing, or perhaps data entry jobs. With these, your income is minimal, and you might actually be scamming people if you get involved in envelope stuffing.
Conclusion
American Online Jobs is a waste of your time. It is promoted as a way to get jobs online, but members are really just doing useless tasks to earn a couple pennies. The owners of American Online Jobs are probably pulling in thousands of dollars every month by getting clicks to advertisements, and they are getting this work for free by misleading you into thinking you can make money with their website.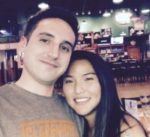 Nathaniell
What's up ladies and dudes! Great to finally meet you, and I hope you enjoyed this post. My name is Nathaniell and I'm the owner of One More Cup of Coffee. I started my first online business in 2010 promoting computer software and now I help newbies start their own businesses. Sign up for my #1 recommended training course and learn how to start your business for FREE!