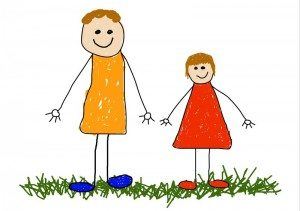 It's not easy being a single dad. Managing time, money, and personal relationships can be a major stress point. What's worse, is that there doesn't seem to be a good solution to fix all of these issues.
Get a second job, and suddenly you have more money, less time, and your relationship with your children may suffer. Opt for more time with the family, and you might be living paycheck to paycheck, which can also be a source of stress.
Kids don't often understand the idea of budgeting, and even if they do, I think every parent wants to strive to give their children the BEST life possible, instead of the bare minimum.
Today I wanted to reach out to some single dads out there and tell you a bit about what I do for a living, and how you can do the same. I work from home, and though I'm a single guy, I think this could be a pretty awesome job for a single parent. I basically set my own schedule, and certainly make enough for a family to live off of.
I want to be as honest and up front as possible here. There's a lot of scams out there that will try to pitch you the idea of easy money, secret systems, loopholes, and even pyramid scheme type business models like cash gifting and network marketing which can put your DEEP into debt.
That's not my style. You will know everything you need to know to get started, and how much it's going to cost by the end of the post.
How Do I Earn Money?
I work for myself, and I do something called "affiliate marketing". The broad concept of what I do is build a website, write blog posts for it, and promote products on the website. I don't keep any inventory, I don't have to handle shipping, or deal with customer service.
It's kind of like I'm a freelance advertiser.
Many companies have affiliate programs that allow you to sign up (for free) and get a special link that's tied to your email address. When you make a sale through that link, you make a commission. The types of products you sell is up to you, and how much each commission is depends on the program you join. You can join just one and focus on one company, or join several, and feature a range of products/services.
How Do You Build A Website
Building a website is actually very easy nowadays. No, there's no coding required. HTML and hand coded websites are way outdated. In fact, you can build your first site right now using the little widget below. Try it.
See? Easy. You first website will probably be pretty ugly, but it will work. A working website is better than no website. As you continue to build your affiliate marketing business you can make small improvements to your site, or hire someone to make the changes for you.
Surprisingly, design isn't one of the huge things you need to concentrate on. Many people start out with grandiose ideas of websites that can do this or that special thing, but many times those types of websites don't make money. The ones that make the most money are going to be the ones that have the best information.
What To Write On Your Website
I'll say that again. The websites that make the most money are the ones that have the best information. 90% of what you do on your site will be writing. You will write so much that you get sick of it. Eventually you will learn to love it (I did, and do), but most people aren't used to typing out their ideas all day long.
They key to avoiding that burnout zone and quitting before your business is profitable, is choosing a topic that interests you.
Yes, you can make a website about anything you want.
This is usually called a "niche", and it's why sometimes people refer to this type of work as "niche marketing". Instead of making a website about "dogs" or "fitness", you pick a very specific part of the market like pampered dogs or fitness for men over 50.
This not only reduces the level of competition you have to deal with, but it also means that you can make very specific recommendations to people that visit your site.
For example…
For example, if you want to get ripped and land on a general fitness site that has one article about body building but lots of other articles about women's yoga, you will likely read it, then leave. It's information overload, and not quite your style.
But if you land on a website specifically about reducing body fat and building lean muscle you might join the newsletter, bookmark the site, or even contact the owner and ask for tips.
Choosing a Website Topic For Yourself, And Making Money
I can dig really deep into how to choose a profitable niche, but I want to move on so we can cover what else you need to know before you get started. But here's one more example.
Let's say you've always loved fishing. If you made a general fishing website, it would be impossible to cover everything. Lake fishing, ice fishing, sea fishing, fishing for kids, and TONS of other types of fishing would fit into that site. You could never do all the work, and people that land on your site might be confused as to what your "brand" actually represents.
But if you started a site about sea fishing for single dads, you could really relate to your target audience. You could give some decent product recommendations, and connect with the guys that land on your site. Those fishing rods aren't cheap, so if someone bought a $300 rod and you make a 10% commission, that's $30 per sale you're earning.
If you make 10 sales in a day and that's $300 per day!
Why Affiliate Marketing Is Great For Single Dads
The great thing about affiliate marketing is that it frees up your time in more than one way, and has infinite earning potential (yes, infinite).
A normal job means that you have to drive to and from somewhere. That takes up a chunk of time, and it also costs in gas. You can do affiliate marketing from home, on the computer. You can do it whenever you have free time, and wherever you have a computer. 2AM on Saturday is not any different from 1PM on Wednesday in internet time. The whole world is online 24/7.
With a normal job the issue that you can only work X hours in a day, and only make X dollars per hour at a normal job. Time is limited because you cannot work two jobs at the same time. You can only work more hours to make more money.
When you are writing for your website, the money you earn can actually grow. Write 10 articles that make you $1 per day, and you are making $10 per day. It's not much, but if you work on your site for a year and get 300 articles on there making you $1 per day, you are now earning $300 per day. The articles you write don't disappear. They can continue to earn money every day after they are published.
*Clarification: These numbers are just for example to show you that earning from a website can actually GROW instead of be "flat" like other types of work. Some articles will earn nothing, others will earn $1,000's.
Remember that your website will be earning at all hours of the day: Early in the morning, late at night after you go to bed, when you are driving your kid to school, and when you are at your day job. Don't' get me wrong – it wont' be like that right from the start – but you can work to create a solid foundation for your business, it really will be able to generate profits even while aren't sitting at the computer.
Alright, What's This Gonna Cost Me?
A lot of guys would leave you hanging at this point, and say, "sign up here!" and send you off to a sales page. That's not me.
I wasn't always an affiliate marketer, and I didn't always work from home. I used to teach English to kids overseas, and got into online marketing as a way to supplement my income. After a year and a half I was making enough money to quit my job, move back to the US, and buy a house.
So all this stuff I've just described to you today, I learned at an online business training center. It's a course on how to get your first business up and running, as well as a community of people helping each other out. There are complete newbies, and experienced members, all sharing ideas and working together to figure out problems.
They charge $49 per month for access to the training modules and community. That's it. No "back end" upsells, expensive mentor programs, or other fees. You will also have to spend $14 to register a .com domain. Usually you would have to pay about $11 per month to host your website somewhere (where you store the website files), but you can do that for free with your membership to this community.
So the total cost for your first year of operation would be between $400 and $600 dollars. It's certainly not money that all of us have lying around the house, but it's nowhere near the cost of a brick an mortar business, which usually requires a loan from the bank and upwards of $100,000 dollars or more.
One last thing I have to mention about the cost – please know that it's likely you won't see a profit from your website for a few months. I'm not your money manager, but please do not spend your rent money or grocery money to start an online business. I get comments now and then from people that have turned to the internet as a last resort to pay their mortgage. A few weeks is not enough time to establish a website as an authority on information in any industry. It takes time to build, rank, then make sales.
So this is what we know so far
You need a website
You need to find a niche
You are going to be writing articles for your website
It will cost you $47 per month for training + hosting
It will cost you $10 per year for a domain
Here's what you need to learn
How to find a good niche based on your interests
How to find affiliate programs for your site
How to write good content
How to improve your website
Where to ask questions
My Free Email Course & The Business Community
One thing I do on One More Cup of Coffee is introduce people to the idea of affiliate marketing. I've spent some time developing a pretty comprehensive email course that will cover all of the basics (in a little more detail than here). I think the best way to get started at this point is to enroll in the free course.
In the 5 day affiliate marketing beginner's course you will asked to create an account at this training center I mentioned. It's a starter account, which is free. That will give you access to the beginner training, and help you get a free website set up. Yes, you read that correctly. Everything is free when you get started. If you decide to move forward with your new online business, then you will need to upgrade.
I make commissions from sales. If you join through my link I make a 50% commission. As my referral you will be able to get 1-on-1 support from me, plus monthly exclusive training material not available to other members, and not available to visitors of my blog.
The internet is full of scams that will tell you to buy before you know what it is you are buying. Not here. You are encouraged to make use of the free websites, training, and support for 7 days to get a clear idea of what this community offers.
I'm sure you have lots of questions. Fire away, I'm happy to answer! Remember, this day could be the day that you change your life forever. It will take dedication, work, and a bit of creativity, but know that it's 100% possible for you.
I challenge you to spend just 1 year building a strong foundation to an honest, helpful web resource, and I think you will be very surprised at the results.

What's up ladies and dudes! Great to finally meet you, and I hope you enjoyed this post. My name is Nathaniell and I'm the owner of One More Cup of Coffee. I started my first online business in 2010 promoting computer software and now I help newbies start their own businesses. Sign up for
my #1 recommended training course
and learn how to start your business for FREE!

Latest posts by Nathaniell (see all)